VARIOUS ARTISTS
The Return of Rock (Roadrunner Records)
By: Alex Steininger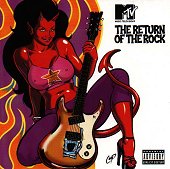 If this is the return of rock, we're in trouble. Kid Rock, Slipknot, Tommy Lee's Methods of Mayhem, System of a Down, Incubus, Coal Chamber, Papa Roach, and every other band out there that sound like each other, make this album a one-stop for all the hard rock and rap-metal fans out there.

The only saving grace this compilation offers up are Korn's "Make Me Bad (Sickness in Salvation Mix)" and Kittie's "Brackish," two songs that are more heavy metal than rock; but two of the only tolerable and well-crafted tracks on the album.

To be pretentious enough to call itself "The Return of Rock," automatically disqualifies this compilation from being anything favorable. Maybe the sixth wave of heavy metal or neo-heavy metal, etc. But the return of rock? Nah. Give me Iggy Pop, The Ramones, The Dead Boys, Velvet Underground, or something like that. That is rock. Not the mass production, cookie-cutter hard rock that you'll find on here. I'll give it a D+.