VARIOUS ARTISTS:
The Right Side Of The Tracks (Afterburn Records)
By: Alex Steininger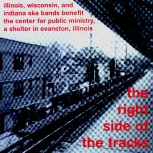 Featuring sixteen various bands, playing all different styles of ska, this record serves two purposes: 1) It is the first release for Afterburn Records and 2) Half the proceeds from the sale of this CD go to the Center for Public Ministry. What is the Center for Public Ministry? Well, they are the parent organization that runs Hilda's Place, a shelter for homeless adults in Evanston, Illinois. They provide food, clothing, and shelter while helping adults find a steady job and a place to live.

The Invaders get this compilation off to a great start with "Ska Fever." The upbeat jumping all the way through the song, this number quickly gets you dancing. Mix in some hard-working drums, bouncing bass, and some horns that accent the vocals, this song really keeps you moving. Speaking of the vocals, they're calm and steady, helping push the music to it's utmost highest possible peak. Once the chorus comes around they throw a little heavier ska sound your way, but because the horns really take charge, it all works out. Johnny Sock keeps the energy high, while mixing in a lot of humor, on "They Know Us At The Spa." Part Latin groove, part swing, and part ska, the verses will get you dancing, while the chorus hits you with the repeated line, "They know us at the spa." Sang so melodic, you can't help but sing along with it. A little less in the sound quality department, The Middlemen make good use with what they have on "No Worries." Mediocre, they definitely show promise. The horns are soulful, while the rest of the band fuses a bit of punk with a lot of lighter, third-wave ska beats. Highly danceable, if they had some better recording equipment and some more experience under their belts, they could be great. Definitely one band you can't miss on this compilation, The Adjusters' "Tailor" is pure soul-ska. One of the hottest bands on the rise, their fusion of soul grooves and ska is definitely something that will be remembered when you hear this compilation. If you've been exposed to them before, you know what I'm talking about. If you haven't, then when you do you'll be blown away. The vocals are all soul, while the band can quickly switch between soul, ska, and numerous other genres. Jumping to the Locals' "Nowhere To Go," their brand of ska is a mixture of 8 parts fast-ska and 2 parts punk. One of those numbers that won't blow you away, it does have a growing effect. Listen to it a few times, and with each listen you'll find yourself more and more into it. Finishing off with Deal's Gone Bad, this instrumental 2-Tone number will find you dancing up until the very end.

This compilation is mostly filled with "up-and-coming" bands that show promise, but need time and practice to 'be all they can be.' But, keeping in mind half the proceeds go to a good cause, this compilation is a good way to expose yourself to a lot of new ska acts. Most of them are enjoyable too, it just may take a listen or two. I'll give this a B.