New Wet Kojak
Do Things (Beggars Banquet)
By: Alex Steininger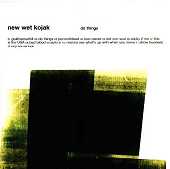 Dark, moody, and still light enough to catch you on a hook, New Wet Kojak are the melting pot of rock, with elements of emo, jazz, experimental, noise, pop, and punk playing equally important roles in their music.

Take, for instance, "go4theoverkill," with its deep, impacting bass lines, experimental rhythms, and noise backdrop all colliding with an emo-rock song in the forefront. Or the eerie "Love Career," a song that is as much an electronica experimental number as it is a pop-rock/emo ditty. And then there is "Sticky," which is about as straight-ahead rock as the band gets. Elements of jazz weave in and out of the pop-rock-noise number.

The band isn't afraid to stretch out, expand, and grow - often in the same song. They have no fears or reservations about shaking things up or throwing in a little something extra here and there. And they do it so well, why shouldn't they? I'll give it a B.