Euro Boys
Long Day's Flight 'Till Tomorrow (Man's Ruin)
By: Alex Steininger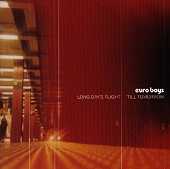 Long Day's Flight 'Till Tomorrow is a gorgeous album. Sunny melodies wrapped around sun-baked rock, Man Ruin's Euro Boys create glorious Brit-pop that sheds its skin and keeps the fire burning by implementing snippets of arena rock guitars wrapped around electronica beats.

Tight and warm, the pop on this album is as bright and infectious as it comes. But, Euro Boys are not only about pop. They can write soaring melodies and intricate beats that swim around in your head until you can't take them anymore. They're not your normal Brit-pop band, either. They shake up everything they do with plenty of intricate details that help keep them away from the repetition of pop music, while still allowing them to play with the standard pop sound and mold it for their own needs.

Here is something new and invigorating, but familiar enough with what has already been done to keep everything simple enough to hook you in, and different enough to make you want to come back time and time again. I'll give it an A-.