INTERVIEW: House of Large Sizes
IOWA's Hardest Working - and Rocking- Band (What Are Records?)
By: Alex Steininger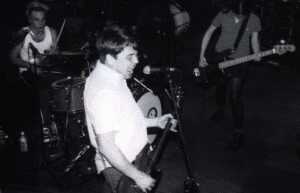 Iowa's House of Large Sizes has been around for more than thirteen years. In that time the husband and wife duo of Dave Deibler and Barb Schilf have managed to amass several thousand fans across the US with their relentless tours. And, of course, their sweaty, all-out-rock live shows.

The band's sixth album, Idiots Out Wandering Around, marks their first live release. For a band that has built their reputation on their live shows, I.O.W.A. is something fans have been requesting for quite some time. Always ones to give their fans what they want, House of Large Sizes recorded the album over seven shows during their Idiots Out Wandering Around tour during February and March of 1999.

"We are known as a live band. We try really hard to capture our sound on record, but people are always coming up to us and telling us that what we do in the clubs is better than what we do on record," states vocalist/guitarist Dave Deibler. "And when you've been around as long as us - 14 years - it makes sense to do a live record. If you've been together for two years, I don't recommend... it isn't needed. We have six albums to choose from, though, and it is unusual for a band to be around for as long as us... so we did it to document the current line-up. "

Recorded straight to ADAT during the live shows and then mixed at a friend's studio prior to release, the album does the best job to date of capturing HOLS' punk-infused, hardcore-blood branded rock 'n' roll.

"It's from seven shows. We digitally edited to put it together and make it sound like a show. We had too," points out Deibler. "I mean, we fuck up, there were technical problems, there are people in the crowd who fuck shit up... the idea was to make it sound like one show to the casual listener. And with digital editing the way it is these days, it becomes a legitimate process."

Besides being a live band, House of Large Sizes has earned their reputation for being a serious band that can still kick back and poke fun at themselves.

"We just called it [Idiots Out Wandering Around] because, first of all, it's true; we're the idiots and we're out wandering around," Jokes Deibler as he beings to explain the album's title. "We're proud of where we're from and to certain people we're always preaching about how you should be proud of where you're from, and if you don't like it, leave and go somewhere else and become a positive member of your community and stop bitching because we're tired of hearing it.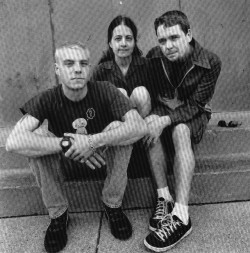 "Iowa is sadly full of whiners. It is very easy to have a good quality of life there and not spend much money. The economy here [in Portland] is so booming. You wouldn't believe what you could buy a house for in Iowa. But, it's because the economy is so different. But, our economy is picking up and changing. For a long time though the farm prices were horrible. My point being is, it doesn't matter where you're from, you can always do something. Find a reason you can do something, do it, and shut up. Granted, we aren't doing everything we're doing for charity. We do it to make money. But, at the same time, we do always have up-and-coming Iowa bands play with us as much as possible and try to support things like that. "But, back to the album title. People about Minnesota say that about people in Iowa all the time. They've heard it before. It's a long running, state rivalry joke."
A band has to be fun to survive. For all they go through, and how little money they make, being a musician isn't the most lucrative career move, for the most part. So, of course, if you're going to sustain a band for several years, it has to be fun and everyone has to want to do it. But, for most bands, even those who stick it out through thick and thin, seven years is a long while. What makes House of Large Sizes' story even more impressive is the fact they've managed to survive for more than thirteen years.
"Barb and I weren't married when the band started, but we've been married for ten years. I think that gives us an advantage [over other bands].
"This is the first band I've been in that's toured, so when people ask me that, I don't know why it has lasted as long as it has. One of the things that I think has helped us maintain the band so long is that we keep adjusting it to fit our needs. Like in 1994 and 1995 we played all the time. We never had a weekend off. And we weren't doing that, we toured nationally. That lasted for about three years. It was too much. So now we've scaled it back and go out for a few weeks and only play our hometown like three times over the summer. It's too valuable to us, so we make it fit into our lives. I don't know about you, but I hate bands that only write songs about being in bands. If you tour all the time, I guarantee you that's all you'll write about - how shitty about your van is."
Dave, Barb, and House of Large Sizes have great reason to celebrate Iowa. Without Iowa, the band, even with Dave and Barb's marriage, may not have been able to survive very long. The cost of living and the ability to survive on a musician's paycheck has helped the band more times than they can count.
"Fuck yeah! When Barb and I first started the band, the apartment we were renting downtown, which was a ghost town, because there were no businesses going anywhere, was like $125 bucks a month. That enabled us to live a real carefree life. You can go collect bottles and come up with $100 a month. Through this, we were able to establish this independence. If we could get $300-$400 a month, all our bills were paid. "The first three of four years, rent wasn't a factor. And House of Large Sizes started making money right off the bat, because there was a void there that we quickly filled."
The love House of Large Sizes has for their music extends to their home state and fans as well. Making it in this business can be hard, and House of Large Sizes knows this all too well. One of the hardest working bands in the business, they may never have a hit, but they'll always have an audience as long as they desire to make music.