The Osborne Brothers
Dayton To Knoxville (Pinecastle)
By: Alex Steininger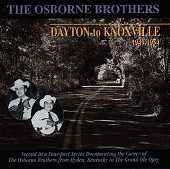 The second in a four-part series documenting the career of The Osborne Brothers from Hyden, Kentucky to The Grand Ole Opry, Dayton To Knoxville is another fine example of the legendary act's fine contributions to bluegrass.

Danceable bluegrass like "Y'All Come," a bluegrass standard Bill Monroe ended the majority of his sets with, to the ballad "My Tears Don't Show,"Dayton To Knoxville is supple, sweet vocal harmonies, sunny banjo, and soothing mandolin in a clean package.

"Alabama" soars with some of the nicest vocal arrangements you're likely to hear, while "I'm Gonna Love You One More Time" echoes love through every note that comes pouring out of the instruments. And then there are cuts like "Is It Too Late Now" and "Little Rosewood Casket," to prime examples of bluegrass music that can be equally soothing and danced too.

There is a reason The Osborne Brothers are one of the most influential bluegrass bands of all time. They're sincere, warm, and friendly. Not too mention quite talented, too. Dayton To Knoxville is the real deal and anyone even remotely interested in bluegrass should pick this up. I'll give it an A+.