The Rootsman
Versions of the Unseen EP (BSI Records)
By: Alex Steininger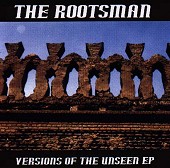 Late-night, hard-rocking, edgy dub music with spunk, The Rootsman deliver six jagged performances on the Versions of the Unseen EP. From a shot of hardcore-dub on "Imitator (Landau remake)" to the trippy "Beyond the Hills (Original)" and the hip-hop-dub of "Al Andalus (Original w/MC Johnny Lone)," The Rootsman never leave any rocks unturned. Cranking out top-of-the-line dub to make your body groove and soul tingle in appreciation, this is the album, and the band, you want playing when the nights are long, hot, and never-ending.

If you're looking for music to sit back, infest your skull, and light you up, than you've found the late-night soundtrack to your trip to 7-11 or munchies-fest. The Rootsman are just that - Roots Man. Capable of prime dub, this EP should wet your palate and make you crave more. I'll give it a B.