Rorschach Test
Unclean (Slipdisc Records)
By: Mike Santarpia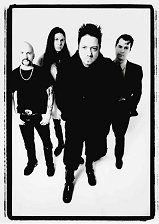 Have you been tested yet? Well, what are you waiting for!? It is time to make an appointment at you local record store and pick up the new album by Slipdisc Records' artist Rorschach Test. Their new album, UNCLEAN, is an excellent album both ragefull and melodic containing both metal and industrial qualities. Produced by Neil Kernon (Nihil, Skrew, N17 and Clay People) as well as being signed to along with distribution by Mercury have trusted these once unknown band into the spotlight. Through all the tough times and the member changes these guys have stuck with it and it finally looks like it is paying off.

Unclean is a combination of tracks from their 2 previous self released titles The Eleventh and Unclean. This album totally defines the sound of Rorschach Test and puts them in a place all of their own. With ear deafing tracks such as Monster and Satan as well as Sex which is a cover of a song by 80's band Berlin as well as melodic melodies like Lament.

Rorschach Test's new found success has landed them top radio play and tours with such bands as C-Tec, Killgore, Ultraspank and currently the Genitorturers. With a video in the works for the song Sex it is surely going to bring more recognition to this once unknown band and is sure to gain air time on MTV.

Their live show is truely an awesome display. They always sound great and are always entertaining on stage. If you haven't checked them out live then you should definitely make an appointment with you psychiatrist and get tested!

It has been a long hard road and with all the troubles of the past behind them they have finally made it with the album Unclean which won't disappoint whether you are a metalhead or a rivethead it is fun for all. So test your sanity, and take the test!