Cursive
Domestica (Saddle Creek)
By: Alex Steininger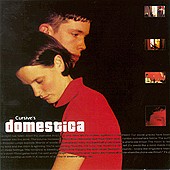 Emo with balls. Hardcore-emo. Rock music with angular guitars, jagged edges, and plenty of teary-eyed emotion running through it, you can't help but want to scream at the top of your lungs, jump and bounce around, and generally get into the music any way possible. Whatever you want to call Cursive, you can. They're simply emotionally driven, hard-edged rock music with sure-fire rhythm and plenty of vocal noise to keep you going.

The album blasts off with hardcore-emo and stays on fire throughout, slowing down only to lure you in with dark, stormy emo that simmers before it reaches its boiling point and explodes.

Though, the hardcore, screaming emo gets tired fast, leaving the album to rely on the softer moments for enjoyment. And these softer moments are few and far between, clouded by the band's need to shake things up with guitar, and keep things exploding every thirty seconds or so. Overall, a good album though. If only it had more sleepy time moments than caffeine rock outbursts. I'll give it a C+.