Shaft
Quint (Evil Teen)
By: Alex Steininger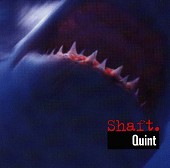 Rap-metal seems to be all the craze these days. And, though Shaft doesn't embrace the rap-metal treachery that we're subjected to every day, their brand of heavy metal/hard rock is similar in style to Limp Bizkit without the rap vocals.

The thing that kept me listening to Shaft's Quint from start to finish was the fact that the singer actually sings. And, has quite the voice, too. The hard rock-metal playground the work within just doesn't seem to have any balls; it's weak, and just when you think it's going to get hard and kick some ass, it backs down from the fight.

The band seems to be pulling the punches on this one. They'll build you up before leaving you to hang. The energy, intensity, and all around power that this type of music is built around are severely lacking. Vocally, though, they're solid. I'll give it a C-.