Pitchshifter
Deviant (MCA Records)
By: Alex Steininger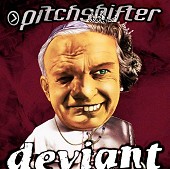 Industrial-charged, hard rock-tinted, and punk fueled, Pitchshifter's brand of aggressive rock is familiar to the hard rock tearing up modern rock radio. At the same time, it has its own touch to it, incorporating healthy amounts of industrial sonic-ism, un-caged punk rage, and rock grooves.

Deviant cruises along generic hard rock territory often. Though even when they're sounding completely generic, they still seem to offer something the others don't - soul. Where the others lack in the soul department, Pitchshifter's generic-as-fuck hard rock seems to be honest, and real. The band seems to believe in what they're doing and saying, and it shows in the music.

The stench of bad modern rock oozes from this album. But the fact that it has honesty and integrity pushes it above the rest, making it worthy of the next level above the $1 bin at the local used record store. I'll give the album a D+.