The Damage Manual
>1 (Invisible Records)
By: Alex Steininger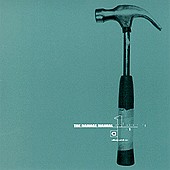 Hardcore, punk rock, and industrial get in a fight and all come out bloody, mangled, and best friends. Twisted into one, the three of them become what is known only as 'The Damage Manual sound'. From the metal-hop grooves of "Sunset Gun" to the straight-ahead industrial-punk barrage of "Scissor Quickstep," The Damage Manual knows how to blend styles of music by breaking all of the rules and re-creating them as their own.

Furthering the innovative spin they put on music as a whole, "M60 Dub" finds the band shaking up industrial with some slower, simmering sound styles, while "Bagman Damage" incorporates dance elements into a lightning quick industrial rocker.

Whether you're a suburban punk, a street rocker, or an electronic nerd who loves pure industrial, you're going to find this disc irresistible. Its intensity defies logic, and the sheer magnitude of the songs will knock you on your ass. I'll give it an A.