Make Up
Save Yourself (K Records)
By: Alex Steininger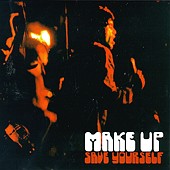 Dark, danceable gospel-meets-hot-rock, Make Up fashions a hot sound that grooves with funky soul, glides with some dirty rock 'n' roll, and sticks in your mind with some memorable, hook-laden 60's style.

The title track grooves with an infectious bass line and ragged soul vocals, backed up with some eerie, lush chants, while the carefree spill of pop slithers throughout the song. "White Belts" gets you moving with its dazzling funky soul moves, while "I Am Pentagon" has you mesmerized with its enchanting pop essence and deep gospel roar. And then there is the tambourine clatter of "C'Mon, Let's Spawn," a song you'll crack up laughing with while kicking up your feet and dancing to the melodic horns and roaring hooks that come crashing down on you.

Embodying the good time style of rock 'n' roll, the Make Up preach fun while you're dancing and enthralled in their gimmick-gone-wrong mayhem and the blistering gospel, frazzled pop antics they revel in. I'll give it a B-.