The Makers
Rock Star God (The Makers)
By: Alex Steininger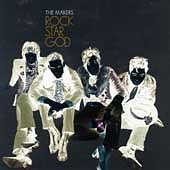 Classic rock never sounded so modern - so alive - as it does on The Makers' latest, Rock Star God. A swirling blend of punk and wild, hip-shaking rock 'n' roll, the refreshing, infectious, blood pumping sounds of The Makers help you re-capture your youth and the rebellion as they tear down walls and barriers and just rock out.

With a glitzy pop intro that soon shuffles into a full-blown rocker, "Star Power" possess all the glamour, triumph, and energy of the best rock 'n' roll, complete with sensational back-up singers.

"Looking for a Supergirl" wiggles with wild, sparkling Glam rock. The audacious guitars roar over the scorching drums and invigorating bass, all while the vocals soar and scream their way into your blood stream.

The Goth-rock 'n' roll of "A Better Way Down" burns; "Texture of a Girl" expands the band's rock 'n' roll sound into a textured, lush punk ballad; "This Is Death Row" delivers a blues-rocker; and "Sex Is Good Food" once again finds the band playing with fire on the full-blown, out-of-control rocker.

If you've been craving classic rock that jumps and shakes with a modern take on things, The Makers deliver their rock 'n' roll circus sound on the aptly titled Rock Star God, a bible and a prayer to their rock heroes. What a fitting tribute to everything rock 'n' roll stands for; I'll give it an A.