Alkaline Trio
Maybe I'll Catch Fire (Asian Man Records)
By: Alex Steininger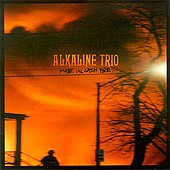 On their second full-length, Alkaline Trio deliver melodic post-pop-punk with sharp hooks, a strong drive, and tightly packaged punches that swing and deliver the 1-2 combo over and over again.

The sobering "Fuck You Aurora" strikes a chord with the line "Fuck you Aurora/ You took my only friend/ You won't catch me behind the wheel of a Chrysler ever again", while the thick bass and emotional outbursts of "Sleepyhead" will jar you with emo-fiered punk.

The title track will have you bouncing off of walls with tightly wound, quickly unraveling pop-punk; "Tuck Me In" rolls along like a freight train, bulldozing everything in its way; and all your punk needs are met with "Keep 'Em Coming".

Then there is "She Took Him To The Lake," which couples punk guitars and a rock solid layer of power with broken glass vocals and an emotional level that reaches its apex through the vocals. And the somber closer, "Radio", which will have you crying in your beer along with the band.

Alkaline Trio expands beyond emo-rock, delving into melodic rock 'n' roll and equally melodic pop-punk throughout this ten track disc. Fast, precarious, yet confident, and rollicking, the band serves up a delightful treat here. I'll give it a B-.