Alkaline Trio
Goddamnit (Asian Man Records)
By: Alex Steininger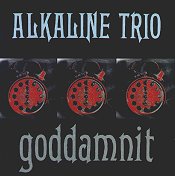 On their debut full-length, Alkaline Trio lives up to the emo-punk tag bestowed upon them. Their lyrics are not political, rather they tap on nerves -- stirring up emotions inside you almost instantaneously. Recalling painful times in their lives, with a melodic edge, they are able to drill aching lines into your skull, usually comforting you.

"Cop" is about as pissed-off as they get, taking a stab at cops as a whole, or at a particular one they know? "Wonder what it was that made you this way. Maybe as a baby you dropped your rattle," opens the song. Continuing on, the chorus line of "Left you with sorry excuses. Left you with meaningless things to prove. Like why you became a cop" helps them both express their anger in a non-threatening manner, as well as get the listener on their side as you both (the band and the listener) start wondering why this certain person has a stick up their ass.

"Nose Over Tail" finds the band dwelling on past relationships gone wrong, with a strong melodic bite. Nothing that hasn't been done before, yeah, but they are able to pull it off with speed, emotional lyrics, and a concrete melodic spin. One minute they're jumping through some punk terrain -- fast guitars keeping everything melodic -- and the next minute they start to use their emo side to shout out words for emphasis. Keeping the feelings alive during these parts, they soon jump right back into the melodic side to give you something to chew on. Definitely a choice cut, you'll be shouting and singing along, all the while jumping along to the nice hooks. That's if you're not sitting down and really absorbing the lyrics, which you can do as well.

Another choice cut, and probably the best track on this disc, is "My Little Needle." At first the melodic-emo song will grab you with the lonely, depressed sounding vocals and strong guitar hooks. But, after awhile, you'll start to wonder about the lyrics as well. The first time you hear the lyrics, the obvious 'heroin junkie' topic comes up, but as the song progresses you understand the metaphor they're using to convey the feelings of loneliness and needing somebody (the general topic of this album). I loved playing with the lyrics and thinking about them, but without the catchy beat the song would be nothing. Combined, they are a perfect match. Definitely something I had rattling around in my head and wanted to hear numerous times.

Opening up the disc a bit, "Enjoy Your Day" and "Sorry About That" give you the chance to hear just vocals and acoustic guitar. The same lyrical style helps propel the songs right to the heart, and the softer tone helps them sink in easier. A big fan of acoustic material, I was eagerly surprised to come across these tracks. They don't flow easy enough with the album, but they do offer up a nice contrast. Trading one for the other, I definitely find these tracks to be essential additions. Using one as an opener and one as a closer ("Sorry About That" does close out the disc) would have been a better idea, though. But, other than that, they help give the band another dimension that may have been ignored had these tracks not been included.

Tightening up since their debut EP (Asian Man Records), and pumping more life into their emo-punk this time around, these twelve songs do a great job of making you feel something. It's safe to say, you wont be walking away without any emotions. Also fun to listen too, they have a good foundation set for them. I'll give this album a B+.