VARIOUS ARTISTS
Take Me Home: A Tribute To John Denver (Bad Man Recording Co.)
By: Alex Steininger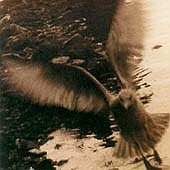 "My idea for this record is to take artists that are less likely to be associated with John Denver, have them open up a new audience to his songs, and give exposure to his popular as well as less known but significant work," states Red House Painters' frontman Mark Kozelek, the man responsible for the John Denver tribute album.

A note worthy compilation with twelve outstanding covers, Country great Denver's songs are remembered through a variety of artist's renditions of his material.

The A Cappella "The Eagle and the Hawk" covered by Bonnie Prince Billy opens up the album. From there, the tribute slides into The Innocence Mission's rendition of "Follow Me." With the country pulse still strong and alive, the light, heartwarming folk number couples tear-jerking guitar strumming with vocals that soar with passion and love for the late, great John Denver and his timeless work.

Red House Painters rock up "Fly Away," giving it the full on, electric guitar-flying treatment, while their rendition of "I'm Sorry" is simple; an acoustic guitar, an acoustic bass, and vocals propel this tender folk-country piece right to your heart.

Mark Kozelek and Rachel Goswell deliver a warming, acoustic guitar duet with beautiful interweaved vocals and the warmth and caring in place, just as Denver had it the first time around.

Granfaloon Bus's version of "Matthew" is a supple country ballad; Sunshine Club's take on "Annie's Song" a warmth, soothing reminder of the power of Denver's songwriting craft and lyrical power; and Low's cover of "Back Home Again" is a airy, spacey swan song.

Denver's legacy will live on forever, through the music of the countless musicians he's influenced as well as through the hearts of his fans.

With a portion of the proceeds from the sale of this CD benefiting "Pets In Need" - an animal assistance provider finding homes for adaptable pets and a supporter of keeping animals alive - you can't help but feel as if Denver's songwriting is given a musical and humanitarian nod. I'll give this a B+.