VARIOUS ARTISTS
Bluegrass 2000 (Pinecastle)
By: Alex Steininger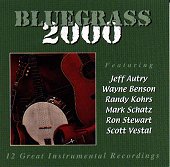 The burn of the banjo and the subtle, ferocious strumming of acoustic guitar coupled with the warmth of the fiddle sends you into a frenzy as "As The Crowe Flies" opens up Bluegrass 2000. The tight, steady beat of the rhythm section adds the zest to get you swinging before things slow down on "Westward," a romantic coupling of banjo and fiddle. "When Johnny Comes Marching Home" starts out with an icy, unsettling vibration before the hot picking, foot tappin' action settles in.

"Ole Rowdy," "Christy Lynn," and "Surge" are all more danceable, swift bluegrass cuts that are as much a call to action as they are relaxation. "Swing 51" and "Season of Joy" are two of the slower numbers on the album, offering up a break from the sunny bluegrass with some steamy, calm music for you to sit back and enjoy.

Twelve delightful instrumental tracks help make this album yet another winner. Number six in the series since Bluegrass '95, Bluegrass 2000 is the perfect sunny day, outdoor music to get your body feeling fine. I'll give it a B.