Yellow Machinegun
Spot Remover (Howling Bull America)
By: Alex Steininger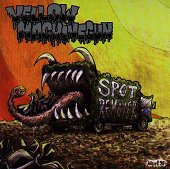 If you thought females were confined to primarily the pop, rock 'n' roll, and sugar-coated markets, then you're in for a big surprise when Japan's Yellow Machinegun comes into contact with your ears. Bleeding, screaming, tougher-than-shit metal is what this three-piece all girl combo excels at, as you'll quickly realize with one listen to SPOT REMOVER.

"Home Alone," "Something Enormous," "Shut Your Mouth," and "Iron Woman" all beat down any doubters with pure, venom-filled, testosterone creating metal. And, what's better, is these girls get right to the point. With the average song lasting only a minute and a half, they get in and out before you even know what hit you.

Here is an act sure to take the metal world by storm with their latest. Power, ambition, and nothing sort of leaving you speechless, Yellow Machinegun are one of the best metal bands around in a long, long while. I'll give it a B.