VARIOUS ARTISTS
A Cat-Shaped Hole in My Heart (Projekt Records)
By: DJ Dysdynia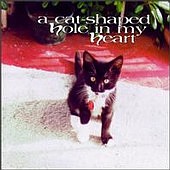 Many times artists have come together for a common cause and put out a CD to benefit that cause. Here, Sam Rosenthal of Black Tape for a Blue Girl, after a recent loss of his cat to feline leukemia, has gathered fellow artists in support of a local Chicago "no kill" shelter called The Tree House. Cat lovers Tara VanFlower, Faith & the Muse, Mira, Collide and even Thomas Thorn have donated their talents for a good cause to those who can't.

A Cat-Shaped Hole in my heart begins with a darkwave likes of Tara VanFlower of Lycia, performing "Galactipus." Next is a surprising tune by Monica Richards of Faith in Muse, called "In Dreams of Mine", which is nothing like any other Faith & the Muse song. "In Dreams of Mine" is Monica doing vocals over a synth keyboard drum, laden with melodic piano. Other notable mentions are Mira's "Cayman," Thomas Thorn's dark instrumental with sampled cat cries, "Mad Max", Stone 588's "Eye of the Moon," Collide's "Felix the Cat" and an early recording by The Changelings, called "Caterwaul." This feline tribute ranges in style form from slow industrial, (i.e. Regenerator and Collide) to classically Gothic (i.e. Stone 588), unto ethereal ( i.e. Tara VanFlower) and then also reveals a different sound for already well-known band (i.e. Faith and the Muse). A Cat-Shaped Hole in My Heart is a great music for a great cause. Hopefully, it will inspire people to see what they can do in their area against Feline Leukemia.