Mediaeval Baebes
Worldes Blysse (Nettwerk Records)
By: DJ Dysdynia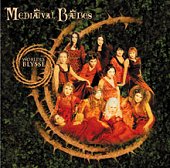 From the talents of Katherine Blake, formerly of Miranda Sex Garden , and eleven other sister mates arises Worldes Bylsse, a mystical recreation of prose and sonnets of olde. Katerine, Nichole, Rachel, Teresa, Audrey, Claire, Cylindra, Marie, Karen, Nicole, Ruth and Dorothy combine their beautiful voices with the zither, titucle, tambourines, bells, pipes, recorders, and dulcimer. The songs range from up liftingly light, to pensive pieces, and then to pounding rapture. Roots of the lyrical content span Middle English, Italian, 12th and 15th century languages, and French.

Worldes Bylsse is similar in style to Miranda Sex Garden's earlier releases Iris and Mandra. Any fan of Dead Can Dance, Soil Bleeds Black, or Corvus Corax will simply adore Mediaeval Baebes, and it's perfect for any SCA event or Renaissance Fair.