Jugga the Bully
Hostile Takeover (UM Recordings)
By: Alex Steininger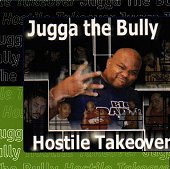 From the "Fukk You's" to various lyrics and an entire song ("Clueless"), Jugga the Bully comes off as a rapper with a huge ego and generic beats, which don't exactly back up his claims to his own greatness. Self-proclaiming himself as a soon-to-be "demigod and immortal," this sixteen song (twenty-one track) album travels through Bully's ego over and over again as he blows wind up his own ass over and over again.

If Bully weren't on his high horse every song, maybe this album would be a bit more enjoyable. Nobody wants to hear someone talk himself or herself up, especially as much as Bully talks himself up. The rap grooves and beats he lays down, though generic, are powerful and mildly entertaining. Heck, there are times regardless you'll find yourself bouncing to this album. But, Bully doesn't seem to want you to dance. He'd rather have you stunned at how fucking great he thinks he is. And, well, that just doesn't fly.

Bully proves that he doesn't need money or fame to inflate his ego. He does that just fine without any praise from the masses. Give him a pen, some paper, and studio time, as well as a few devotees, and the man can beat down any other ego. I'll give this a D-.