INTERVIEW: Luther Russell
The Musician's Musician
By: Alex Steininger



Songwriter, producer, multi-instrumentalist, and all-around great guy, Luther Russell is one of the music world's best kept secrets. A treasure so valuable, time only adds to his value as his day in the spotlight inevitably lies around the corner.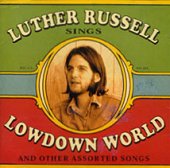 No stranger to the record industry, he fronted Geffen signed The Freewheelers, an R&B/rock act, for seven years before the band's demise. Following the break-up, in 1997 he recorded LOWDOWN WORLD (Cravedog), his first solo album and venture into the folk and blues which heavily influenced him.
On his second, and latest solo offering, DOWN AT KIT'S (Cravedog), Luther further reveals his musical heritage by delving into instrumental funk; not quite what you'd expect as a follow-up to a singer-songwriter folk release. But, then again, this is Luther Russell we're talking about; a man with a love for music, the desire to explore all of his influences, and the talent to pull it off.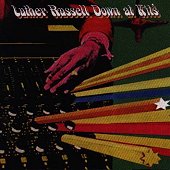 What started out as Luther having fun laying down drum beats on a four-track at his friend Kit's house turned into a party that was never meant for release. Playing the majority of the instruments on DOWN AT KIT'S, as well as producing it, it was far too good not to be heard.
"About two years ago I was laying down some funky drum beats," explains Luther. "Then my friend John came and laid some stuff down. From there I took it home and started doing some other stuff with it. I eventually tossed it out to some friends and they dug it. People started asking me about it. It felt like I owed it to them to finish it and put it out. So, when I decided to fix it for release I went in and recorded some new stuff for it."
After listening to the album, it leaves you wondering if this is his new direction or something fun to keep his fans entertained until he comes out with his next musical creation.
"LOWDOWN WORLD is more representative of what I do. I'm not Mr. Instrumental now or anything. To stay instrumental, that had a lot to do with Denny & Christopher [co-owners of Cavity Search Records]," comments Luther. "It was really experimental with a lot of different stuff and they told me if it was going to be released it should be more groove-based."
"Another thing about the funk album," furthers Luther, "is that for me, it tied up a lot of loose ends. The Freewheelers played on it, and that was the first time since our break-up we had got together and played."
With a man as diverse as Luther Russell and so eager to expand his own musical boundaries, it's hard to predict, let alone guess, on where you think he'll be heading next. The funk album was done for fun; never meant for release. But, as it grew in stature amongst his friends and all that heard it, it was clear it had to be released. But, as far as his career in music goes, Luther is already planning ahead for what he calls his "serious" solo album.
"The stuff I'm working on now has more in common with Richmond Fontaine and Fernando [local bands he's produced and works with]," states Luther on his next solo album. "I'm planning and writing a straight ahead pop-rock album. It's like The Birds meets Tom Waits and Big Star. The funk and Spanish albums [PACOIMA, an album he recorded with Fernando] were all about seeing if I could do it. But, pop is more my forte."
Furthers Luther on the 'pop' solo album: "I really want to sink my teeth into it. I'm hoping to get into the studio as early as January, but right now I've got a few commitments. I'm producing a friend's debut solo album and entering the studio with Federale."
Federale is yet another side of Luther Russell that needs to be explored to fully understand just how creative and energetic this man is. Featuring Marc Ford (ex-Black Crowes) as Luther Russell's co-songwriter, the band quickly became a hit with the industry, with twelve different major labels in the audience for their first performance in L.A. Later signed to DGC and then, during the mergers and consolidation of the Big Six to the Big Five, to Interscope.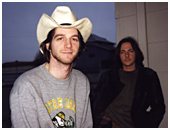 "We're no longer signed to them, though. They fired our A&R guy and gave us the option to stay with them or to go. We decided to leave," confirms Luther Russell on recent rumors of the band's departure from Interscope.
With six-year Black Crowes vet Marc Ford's name attached to the project, and a legion of fans following their every step, including bootlegging most of their live performances, there is no question as to the impact this band will have once their debut is released.
"We've only played thirty shows or so and already there are plenty of live shows fans have recorded being traded over the Internet. We're a heavily recorded band," comments Luther on the band's popularity with their grassroots fan base. "Right now though, we're taking our sweet time. [Federale] is a fairly new band, so we're taking everything slow, using a very organic approach to everything. It looks like in December we're going to record. But, we are taking our time on everything."
With a band already establishing a huge fan base without even trying and a huge buzz sure to follow their debut release, added to the fact that he's working on another solo record, you can't help but wonder where Luther's priorities lie or what he considers his main concern.
"I've got to be honest," Luther says with certainty, "nothing is my main concern. Right now, Federale and my next solo album will be my main concerns. Fernando may even help produce the solo record.
"The funk album is all about fun and the fact that people said others would like it. If it gets a good response, I'd like to do a follow-up to it. Also, Fernando and I are doing a joint pop record. Half Spanish/Half English. We've got a whole slew of songs for that. I'm really excited about it; it's going to be really cool stuff."