Luther Russell
Down at Kit's (Cravedog Records)
By: Alex Steininger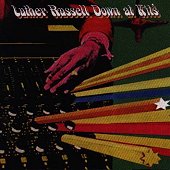 Born out of boredom and a few drum tracks he was throwing down, Luther Russell's second solo album, DOWN AT KIT'S, is a lo-fi rock 'n' roll extravaganza. Planting everything in funk roots, Latin jazz, blues, and acid all play a huge part in the overall sound, which doesn't begin to really describe what this album is, or what it is all about. Completely instrumental, except for Luther's wife, April, adding a vocal track on "Babette Goes to Delaware," nothing can prepare you for the sheer experience of having heard this eclectic, 4-track jaw-dropper.

A porn soundtrack? Pimp funk? Yes and no. Of course, after hearing the entire album your immediate response will be that this album is the score to an obscure porn film you'd find at some dingy corner sex shop at 1am when you're feeling really 'lonely'. Sure, it could be that if you want it to be, but it is plenty more as well. "Fried Bananas," the opening track, gets things rolling with a hot and sweaty Latin jazz groove sure to get any party off to a good start. Then there is the greasy dark alley funk of "Keohen's Theme." A sly drum beat moves over a heavy bass groove, all pulled together by the organ's smooth soul. And, the clink-clank of the tin can adds a distinct clatter that definitely works in favor of the song.

"Vista Del Mar at Franklin" will have you sitting back with its silky lounge and wild funk. "The steamy seduction of "Line No. Thirty-Seven" is brought about by mixing cocktail jazz with more funk, causing the temperature to rise as you sit back and enjoy the party. Then things start to really boil with the blues stomp rock of "50/50 Bar Blues," a song that you'll be hard pressed not to get up and move too.

Heavy on the funk, and even heavier on the fun, Luther Russell cranks out beats sure to make you laugh, dance, and have fun, which seems to be the entire purpose of this album. Entertaining and quite the party necessity, DOWN AT KIT'S is one of the most joyous albums of 1999. It won't force you to think, or make you depressed, all it asks is you have fun. And you will. I'll give it an A.