The Real Kids
Better Be Good/No Place Fast (Norton Records)
By: Alex Steininger



Offering up two different collections of rare and unreleased material by The Real Kids, BETTER BE GOOD is a bunch of different takes from their legendary, debut LP, RED STAR. NO PLACE FAST is the NO PLACE FAST LP with "Problems" and "She" added as bonus tracks to the CD version of this release. Both are amazing collections of a rock 'n' roll band that embodies what the late seventies and early eighties were all about in terms of having fun, kicking back, and just rocking.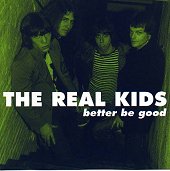 BETTER BE GOOD includes the smashing, infectious, all-out-rocker "All Kindsa Girls." Not only does the song rock with a force to be reckoned with, it also possesses a pop charge that would be hard to match. "Solid Gold" is another bold, in-your-face rocker that doesn't cut the pop out of the loop. The band makes sure the songs are razor sharp, edgy, but overall melodic.
"Reggae Reggae," "Up Is Up," "My Way," "Do The Boob," and another version of "All Kindsa Girls" demonstrate the band's ability to jump into raunchy rock 'n' roll that is untamed, uncontrollable, and liable to blow up in your face at any time. But, the band also has their sweet pop side as is demonstrated on "She," "She Come Alive," and "Now You Know." Of course, even their sweet pop side is untamable and has the same rough edges that make their fiery rock so damn good.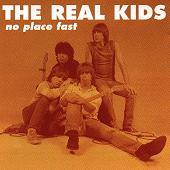 NO PLACE FAST is much like BETTER BE GOOD in the sense that the band unleashes some hearty rock 'n' roll that is as much fun to play as it is to listen too. Full of power, the band has no problem delivering their rock on either release. But, with a few years under their belts and probably quite a few live shows, NO PLACE FAST demonstrates a more mature, cunning band that still is uncontrollable, but in a more calculated way.
Songs like "Can't Talk To That Girl," the title-track, "Senseless," "Small Town," and "Everyday Is A Saturday" possess a knack for wild rock, but also the ability to incorporate appropriate amounts of pop music to really hook the listener and have you fall for their madness and become addicted. All the while, songs like "Small Town," "Bad To Worse," "Everybody's Girl," and "She" show the band approaching the rock 'n' roll from the pop side, instead of the other way around, and being damn good at it. Both sides are tremendous and offer the listener something similar, but different enough to captivate.
The Real Kids are a great rock 'n' roll band. That is clear by listening to these two fiery rock albums that will remind you rock 'n' roll isn't dead, but primarily (except for a few modern bands) living in the past. And, as long as we constantly play and remember the music that is rock 'n' roll, it will never die. I'll give both of these albums an A.