Knoxville Girls
Knoxville Girls (In The Red)
By: Alex Steininger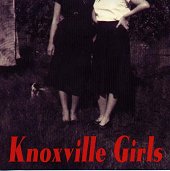 With a pedigree like no other, the Knoxville Girls (featuring members who've served time in Sonic Youth, Pussy Galore, The Cramps, and Nick Cave and the Bad Seeds) are arguably well-trained and well-schooled in the concept of what makes a band work. This time around putting their heads together to create a drunken, punk rock fusion of country, slight rockabilly, and pop, the band hits home with a drinking, working man's band sure to help make those extra few pints go down a bit smoother.

"Little Better All Over" possesses a slick rockabilly feel that makes you want to get up and dance. Then there is "Have You Ever," a crying-in-your-beer song like you've never heard before. The vocals sound like they've had one too many drinks, while the band somberly walks through their notes to hold the moment and let the tears roll down. Of course, then there are cuts like "Two Time Girl" and "NYC Briefcase Blues," which take the rough, alcohol-induced production to the next level. The songs are fuzzy, distorted, and created in a haze of what seems to be fuzzy alcohol memories.

The slow songs like "He Stopped Loving Her Today" are nice; they really hit you hard and make you feel all the emotions that go into the song. And even cuts like "Little Better All Over," which are at least half way clear and sober compared to the rest of the tracks, are enjoyable. But, the majority of the cuts are recorded with a daze-y feeling around them and the vocals sing in the key of alcohol almost all the way through the album, which makes them hard to understand and get into.

The album isn't bad. It's got its good points. But, the majority of the album is too rough to really get into. Edges are good, but when they're too fuzzy and you can't even tell an edge should be there, that is when you have to draw the line. Good stuff if they could record it a little better. But the way it is, this stuff slips by without a passing thought. I'll give it a C.