SHOW REVIEW: Quasi with Elliott Smith
September 14, 1999 - Portland, Oregon (Satyricon)
By: Alex Steininger



With a capacity of 350 people and a bill featuring the two biggest drawing acts in town, Quasi and Oscar-nominee Elliott Smith, only a fool would think he would have breathing room as they stood watching these two very talented acts. Of course, once I entered, it was evident that from the stage to the bar it was packed. Being small and maneuverable, as well as completely lucky to run into a friend who was stating, "Hot soup! Woman with a baby," as he carried two beers to the stage, I managed to stick to his back and follow him up the stage.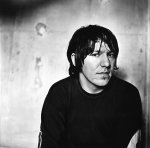 Once I had a spot stacked out on the steps of the stage, I stood as the friendly, kind-hearted introvert Elliott Smith hit the stage with his acoustic guitar. Looking a bit weary and tired, he sat on his hard-backed chair and plugged in his guitar as every eye in the building focused on him. Soon he was ready; he instantly started playing his quite, folk-tingled pop songs with every ounce of emotion in his body. Putting himself - his pains, fears, and worries - into every song, he made everyone feel on cloud nine as his music spoke for not only himself, but the audience as well.
Now, you may wonder how someone could play semi-depressing songs about the hurt in life and still manage to send a feeling of euphoria through his audiences' body? Well, if you're wondering this, you've obviously never heard Elliott Smith, his nothing-short-of-amazing ability to write breathtaking pop hooks, or his soft-spoken, timid voice that wants to help as much as it wants to entertain.
Elliott's been in Los Angeles for the past several months living (as it is now his home) and recording the follow-up to last year's critically acclaimed, critic's favorite XO (Dreamworks). So, when Elliott plays an 'unofficial' show to test out the new material, that's exactly what he does: plays mainly new material. I'm always glad, as I'm sure the audience is, to hear him play all our favorites. But, when you get the privilege of hearing him perform live songs he may or may not go with, you feel that much luckier to be witnessing what is before your eyes and ears.
Two of the most striking songs that night were "Wouldn't Mother Be Proud?", which may or may not be the going title, and a song that captivated me with the lines, "My method acting pays the bills/ While it pads the pockets of a fat man in Beverly Hills." Of course, every song Elliott unraveled before the eager crowds' ears was welcomed with applause and plenty of cheering. A well-received set, one couldn't help but nearly faint in sheer anticipation for the forthcoming masterpiece Elliott is sure to bestow upon his loyal fan base (which will most likely grow five to ten times larger with the forthcoming album).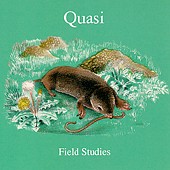 But, that wasn't the end of the night, it was just the beginning. Next up was Quasi, who just released the quintessential FIELD STUDIES (Up Records), their forth full-length to date. A brilliant mixture of warm, fuzzy pop and pessimistic, jaded lyrics. Lead by the distorted electronic keyboard of frontman Sam Coomes and backed appropriately by the always-fun-to-watch Janet Weiss (Sleater-Kinney) on drums, Quasi manages to get you moving around in delight while bringing you back to earth with plenty of reminders why life isn't the most pleasant thing. But, as they state on "Smile" off of FIELD STUIDES: "No one seems to care/ That you never got your share/ Who said life was fair?/ So smile, it's not that bad."
This pop duo dove through plenty of songs off of their new release while also reaching back into their catalog and pulling tracks off of their three previous efforts, including FEATURING...BIRDS (Up Records), their third release and the album that made them a critic's pick throughout the nation. Sam Coomes did half the set on his electronic keyboard before moving away from that and picking up his Fender to play some guitar-based pop numbers, until, near the end, his guitar wouldn't stay in tune so he literally tossed it aside and went back to the keyboard.
Tensions seemed to be bubbling in the band, but due to the fact Sam Coomes and Janet Weiss used to be married and now just play in a band together, it seems to be these kind of tensions that drive the band to a level of intensity that few bands can match. Janet's steady rhythms kept the songs bouncy and lively while Sam kept the melody glowing with his quiet, anti-social voice and either the keyboard or his guitar as his instrument of choice.
Playing the previous night at La Luna in front of 400 fans, the band was good, but was struggling through inner-band turmoil and sound problems, not to mention a slap in the face in the morning's weekly liberal paper, the Willamette Week, which attacked the band for its popularity. But, they seemed to be back on their mark at this show, drawing you in with the pop hooks, entertaining you with plenty of eye appeal and an energetic stage presence, and getting you to sing along with some jaded lyrics that you wish you'd wrote.
Teaming up Elliott Smith and Quasi, well, is a recipe for success. You can't really lose with this line-up as a packed-plus house can attest too. Both acts were on the mark, giving the fans what they expected, if not more, and providing plenty of amazing tunes for the evening. I'll leave you with this, it was one of the best shows I've been to in a long time.