Idlewind
Idlewind (Odeon Records)
By: Alex Steininger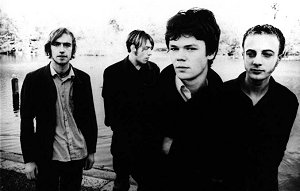 Punk music with a strong, melodic pop ear or pop music with inklings towards punk? Well, Idlewind is a combination of the both. They play spicy, loud pop music that crosses over into the punk realm while, at the same time, playing punk music that seems to want to go pop. The outcome is an album that, despite its low points, musters up plenty of energetic moments sure to get you blazing along with the music.

"You've Lost Your Way" pretty much sums up the entire song in the title; the song has horrible vocals that try way too hard to be harsh and 'punk,' all while leaving behind the pop sense that makes the band what they are.

"When I Argue I See Shapes," though, is a light, bouncy pop ditty that is spiked with plenty of fuzzy guitars and punk kick, without alienating the pop music or its listener. Then there is "Everyone Says You're So Fragile," which comes at you full blast with the punk in one hand and the pop in the other, making for a volatile combination sure to knock you on your ass. "Safe and Sound" and "Low Light" are two other stand out tracks.

When they're trying to be completely punk, they're a joke. When they focus on the light, pop beats and crunchy guitars that define who they are, they're at their best. And, in between the two, they can be either or. Overall though this disc has its moments and deserves a few listens. I'll give it a C+.