VARIOUS ARTISTS: House of Blues: Tangled Up In Blues
Songs of Bob Dylan, But This Ain't No Tribute (House of Blues/Platinum Entertainment)
By: Alex Steininger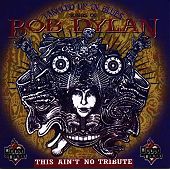 Bob Dylan has influenced everyone from rock 'n' roll, folk, to country. And just as he has influenced many great blues musicians, he was influenced by blues legends as well.

Dylan stated during an interview in 1977 that, "I still listen to the same old black-and-blue blues. Tommy McCleannan, Lightnin' Hopkins, the Carter Family, the early Carlisles. I listen to Big Maceo, Robert Johnson, Fred McDowell, Gary Stewart. I like Memphis Minnie a whole lot."

So, it seems only natural that blues legends like R.L. Burnside, Isaac Hayes, Mavis Staples, and Taj Mahal, not to mention eight others, transformed Bob Dylan's music into some sweatin', toe-tappin' great blues music. If you thought they were great the first time -- and they were -- hearing the blues injected throughout them while someone else interprets the song their own unique way will blow you away.

Taj Mahal takes you deep into the heart of the blues on "It Takes A Lot to Laugh, It Takes A Train to Cry." His voice is as sincere and honest as they come and the music amplifies the honesty even more. Heck, the song speaks so much from the heart you'd swear he wrote this number. The harmonica sweeps through the song with an injection of soul while the guitar is all you need to start moving along with the music. Then there is the rhythm section, which gets your toes tappin' and heart pounding.

Mavis Staples' voice is right on the mark on "Gotta Serve Somebody." Dylan told Rolling Stone in 1969 that "I've always liked Mavis Staples, ever since she was a little girl. She's always been my favorite." Then, in 1985, he told another writer that he has "...always been drawn to a certain kind of woman. I listen to the voice first. It's that sound I heard when I was growing up. It was calling out to me. When everything was blank and void, I would listen for hours to the Staples Singers."

Isaac Hayes brings some smooth soul into the blues mix on "Lay Lady Lay." His deep, rich voice brightens up the room when it gracefully pours from the speakers of your stereo. The song has plenty of grooves to feed off of; you'll be softly dancing to this number all night long.

Of course, the ever-so-enduring blues great R.L. Burnside is a must for any blues compilation. So, it's no surprise that he shines on "Everything Is Broken." This man has been living and playing the blues for so long, it seems to be his natural form of communication. Let me tell you, if you weren't a dancer before you heard this song, you'll be after you hear it. R.L. Burnside rocks everything up with some sly blues licks that just glide off his guitar and set fire to anything they touch.

John Hammond gives treats the listener to some down-home blues pickings on "I'll Be Your Baby Tonight," while Alvin "Youngblood" Hart brings in some lounge-blues on "8 Million Miles." Let's not forget Leon Russell's rendition of "Watching The River Flow," a rockin' lounge blues-soul song that will long be a favorite.

The blues lives through Bob Dylan's music and this disc proves it. Straight from their hearts to yours, these amazing blues musicians take Bob Dylan's genius and spin it around with some blues of their own. Bob Dylan fans, blues collectors, and any fan of music will love this album; I'll give it an A+.