VARIOUS ARTISTS
Idle Hands - Music from the Motion Picture (Time Bomb Recordings)
By: Alex Steininger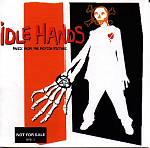 Idle Hand is a comedy that mocks horror films; now, I'm not going to comment on the movie, since this is a CD review, and from the previews I've seen, it doesn't seem to be the most creative movie available. But hey, it has a rockin' soundtrack to it, some there must be some good moments even to the movie.

Punk rock comes full-circle with 80's arena-metal (Motley Crue) and electronica-industrial (Rob Zombie). Although various rock formats are found throughout this disc, it is hard working punk bands like Unwritten Law, The Vandals, The Living End, and MTV's buzz band The Offspring that make this soundtrack something to take notice of.

Unwritten Law's "Cailin" is the standout track; it's pop-punk (heavy on the pop) base and highly melodic drive is something you just can't pass on. Fairly slow -- like a punk ballad -- the guitars are amped up and spirited, but are as clean as they come, and with a very melodic feel to them as well. The vocals are clear and full of emotion, making you feel every word, and the rhythm section makes the most out of the slow pace to the song. Although it's track nine, once I heard it I was hooked and began starting the disc here.

Of course, The Vandals' "My Girlfriend's Dead," which did not appear in the motion picture, is an instant smash, too. Comical lyrics about losing the girl you love, and not wanting to face it, so you tell all you're friends she's dead, The Vandals' humor mixes well with their punk-pop sound. They'll surely get you dancing and singing along within the first few notes.

Other notables are The Living End's "Second Solution," which is power-punk/rockabilly so psychotic and aggressive it will cause a heart attack if you listen to it wrong. This is one of the most aggressive, danceable, furious bands out there today, so take a listen and be blown away. Blink 182's "Enthused" and The Waking Hours' pop-hardcore cover of L.L. Cool J's "Mama Said Knock You Out," neither of which appeared in the movie, are also high spots on this disc.

This is a well-rounded soundtrack; it doesn't vary from its original rock drive, but offers up enough diversity to keep things from growing stale fast. It's got some good stuff, some mediocre stuff, and some low stuff, but the high definitely outweighs the rest. I'll give it a B.