VARIOUS ARTISTS
The Matrix: Music from the Motion Picture (Maverick Records)
By: Alex Steininger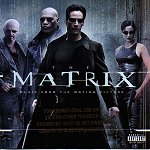 The Matrix, starring Keanu Reeves, Laurence Fishbrune, and Carrie-Anne Moss, promises to be the blockbuster hit of the spring season. And, of course, accompanying any hit movie is a soundtrack that has to live up the explosive potential brought forth by its father (the movie). So, to combine a dynamic soundtrack with an action-packed thriller, the movie executives went out and gathered tracks by bands like Marilyn Manson, Ministry, Prodigy, Rob Zombie, Deftones, and Monster Magnet. And, the outcome is anything but predictable...

Right from the get go the soundtrack helps establish a lively scenario for the movie. From the industrial charged, hard rockin' drive of Marilyn Manson's "Rock Is Dead," you'll quickly know that the movie itself is all about thrill, suspense, and moments full of action.

Sure, that probably dawned on you when you saw all the action shots in the trailer for the movie. Seeing something though is one thing, but when you mix what you see with monstrous sounds, a whole new world is created. And that is exactly why this soundtrack thrives.

Let's forget about the movie, though. The album itself is able to stand on its own two feet, with our without a movie to back it up. Ministry's "Bad Blood" makes things even wilder. Their thunderous industrial-metal sound mixes a screaming vocalist with crunchy guitars and an ear shattering rhythm section to push the excitement and intensity to the max. After hearing this one you're blood will boil.

That is just one side of the compilation. Meat Beat Manifesto's "Prime Audio Soup" serves up the electronica beats that will get you grooving, while the Deftones will have you rocking out with "My Own Summer (Shove It)." Of course, Hive's "Ultrasonic Sound" plays like a good acid trip in your head, and sits perfectly next to Monster Magnet's melodic-metal sound.

Though I haven't seen the movie, and probably won't until it is released on video (I'm not a theater person...), the soundtrack has already created an impression with me. But as a disc of music itself, with all notions of the movie aside, this is still a stand out industrial-metal-electronica compilation that jumps from track to track and allows the listener a variety of sounds in an hour's time. I'll give it a B.