VARIOUS ARTISTS: Meet Joe Black
Original Motion Picture Soundtrack (Universal Records)
By: Alex Steininger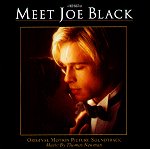 MEET JOE BLACK, starring Brad Pitt, is the story of media tycoon William Parrish (played by Anthony Hopkins), whose charmed life and orderly household are suddenly disrupted by the arrival of an enigmatic young man named Joe Black (Brad Pitt). But that is only the set up, the true story starts to unravel when Joe Black falls in love with Parrish's beautiful daughter Susan (Claire Forlani). Complicated and bittersweet, the romance has profound consequences, for Joe Black is actually the personification of death.

With a very romantic presence evident throughout the movie, the soundtrack's orchestrated music helps to keep the underlined theme soft and pretty. Except for a few tracks, like the swingin' "Cheek to Cheek," the majority of the music is faint and gentle, catering to both the romantic side of the movie and the 'personification of death.'

Wonderful for background music or to relax with, the music seems out of place for anything else. Unless you're considering dancing slow and close, then the music gives you the perfect opportunity to do so. Very upscale, romantic orchestration shines through this disc from start to finish, giving it ballroom feel. I'll give this disc a B.