The Falsies
The Falsies (Espo Records)
By: Alex Steininger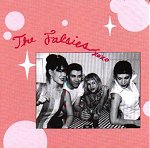 Been craving some 60's, golden oldies pop along with some classic rockabilly? Well, I know I have, and if you have too, The Falsies might just be the band to satisfy your cravings. A four-piece from Boston, these greasers-gone-pop show they can put the style and flavor of the 50's and 60's back into indie music. And they do it quite well on their debut, self-titled EP.

With lead female vocals that fit perfectly on golden oldies radio, and three harmonious backing vocalists (two female and one male), these cats sure know how to relive the classic pop radio in style, while also shaking things up a bit with some toe-tappin' rockabilly.

Of course, the pop always takes the driver seat. The songs don't get too sweaty or out of control, they always manage to stay level and light, bouncy and fun, while kicking out the jams in a sweet fashion that will make you want to go dance with your honey at the local malt shop.

Convertible cars, malt shops, and sock hops are what you'll think of when you pop this disc in. The songs manage to re-live a time when music was pure and fun, almost to the point of believing these tracks are off of a "Rockin' to the Oldies" set you'd see on TV. And, although they don't reach that point, through modern touches, they don't outcast themselves either. I'll give this album a B+.