The Insyderz
Fight of My Life (KMG Records)
By: Alex Steininger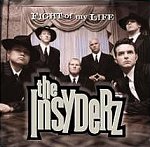 With a twist of rock n' roll and a dash of ska, all over some crunchy guitars and a punk sensibility, The Insyderz are a six-piece ska outfit from Detroit, Michigan. Let it be known, they are a Christian ska band. But that shouldn't be any reason not to give them a try. However, the music on this disc just might be.

The pop and ska aspects of the disc work well together, but when they start to stray off into the punk, metal, and rock boundaries, they begin to tread in waters that seem too heavy for them. When they play light, fluffy ska they are quite enjoyable. Heck, the first two tracks are quite good. They put a bounce in your dance, have your lips moving along with every word, and your head will be shaking in agreement. But then a horrid ska-metal-funk number breaks all the momentum the disc ever had, and it will never be regained.

In an attempt to spread out and open up their sound, they seem to leave themselves wide open with holes. Their fusion of rock n' roll and ska were never meant to be one, as will be heard on this disc. If they just stick with the light, bouncy stuff that works so well, they'd be quite enjoyable. But, they don't. I'll give this disc a D.