The Jimmies: Win Some, Lose Most!
By: Alex Steininger



Every once in awhile there is a band so powerful, so melodic, and so fun you know they're going straight to the top. Back in 1995 when I was first exposed to the Jimmies, I was blown away. I followed their progress through a few 7"'s and two EP's. And then the moment all the punk rockers in town were waiting for came...they were releasing their debut full-length CD, COUNTDOWN (Review). It was late December of 1996, and I knew something magical was going to happen to this band. It just had to. I mean, the album was so bouncy and catchy, you couldn't not dance and sing-along when you heard it. But here we are entering 1999 and they're now label-less while kicking out some of the best tunes of their career. Let's not start the story here though, lets go back to the beginning.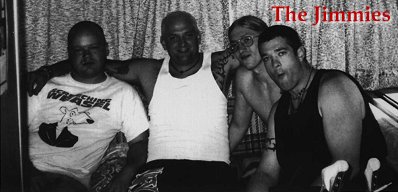 Born into the small town life of Longview, Washington, there is no escaping the boring surroundings that stay with you day after day. Besides going to see a movie or listening to music, the only other thing to do to cure the boredom is drink. So drinking lots of alcohol is what the guys who would later form The Jimmies did.
The Jimmies started out as a five-piece featuring Chris Brusseau (vocals), his older brother Barry (guitar/backing vocals), their half-brother Tim Ward (drums), and friends Jason Olson (bass guitar) and Eric Parvi (guitar/backing vocals). They would continue this way for quite some time, drinking and playing loud. Eric would play with the band through their "65 Miles" 7" on National Dust, the SOMEONE HAS TO PLAY LAST CD/EP on Schizophonic, and the IT'S A SPLIT split CD on Bittersweet. But, just as they were gearing up to release their first full-length, Eric decided to leave the band. "It's different, because you can't...individual parts don't sound as cool. The one guitar makes it sound hollow, while with two guitars it sounds really cool. You can do a lot more in the studio that you can't do live, too," explains Tim on the departure of Eric. "He [Barry] bought Eric's amp off him, so he pretty much runs it through the same thing. He has a half stack on each side of the stage, and it sounds pretty powerful. So, looking at it, nothing has really changed all that much." Out of the eleven tracks on COUNTDOWN, Eric's last track was the title track. But, even as a four-piece, The Jimmies still manage to whip out muscular sounding '77 style punk rock that relies on its poppy beats to keep the crowds dancing, singing along, and drinking to every note.
As grand as COUNTDOWN is, I swore an Epitaph or a Lookout Records would be all over it. But the closest thing they've come to signing with a major-indie label like the above two mentioned was when Panic Button Records (Ben Weasel's vanity label off of Lookout) became interested in them. "It started out they [Panic Button] was all excited about signing us, so we were really excited about signing to them. But, it didn't happen. I don't know the whole story, but Ben Weasel got some money from Lookout! in court to start a label. It wasn't a bad blood thing or anything, but he got some money from them to start his label. But it didn't work out for us, so we're just going to keep going. I'd like to get signed to a label and have someone put out our records, but if not, we'll put the next one out," Tim says, explaining their label-less stance right now.
But even though COUNTDOWN is nearly two years old, it still remains a hot seller from time to time in the Portland area. "One day we were on the A&E's top-selling list for independent bands in the Northwest. You know the list...well, COUNTDOWN was on there once and then never again a while ago," Tim says with curiosity in his eyes. "Yeah, we must have had a good show or something. Or, people were so bored with local music, they decided they really liked the album and picked up a second copy," elaborates Jason.
Playing around the local area several times a month, The Jimmies are hard at work perfecting their craft for their next album. Polishing the material live, the only way they know how, they're hitting Portland frequently to keep their name out on the market while they work on a follow-up to remind local music fans they are indeed still here.
"We've got about nine new songs and are trying to get a few more for a full-length. We've been having some problems though, because the guy that usually records us went back to college. He isn't going to record anything for five years, so we're starting over and trying to find a new studio guy that we like," explains Tim.
"[The new stuff is] strong stuff, and I'm very anxious to get it out. I really like it," Jason says when asked his opinions on the new material. "Some are more poppier, and some are...it's more of a mix."
"I hope it doesn't take too long. But, in the mean time, we'll do some artwork and take care of some stuff," furthers Tim on a possible release date for their follow-up full-length.
So, what should people look forward to from The Jimmies in 1999?
The words just jumping out of Tim's mouth, he eagerly states, "In 1999 we want to get a new record out."
"And more touring in 1999," Jason quickly follows.
Yes, 1999 should, if we lived in a perfect world, be the year when everything starts to fall into place for the band that has seen their ups and downs, lived to talk about them, and put in enough hard work to fuel several punk groups. If we lived in a perfect world they're punk credentials, which are untouchable, would have gained them a substantial underground following and interest from every label that considers themselves 'punk.' But, we'll just have to wait and see. For me though, I'm just eagerly awaiting The Jimmies next full-length, regardless of who puts it out. It's going to rock, because what else would you expect from the best punk band to ever call the Pacific Northwest home.
Click here to read a review of The Jimmies: Countdown