VARIOUS ARTISTS
The Radiolistener Remixes (Vegas Records)
By: Alex Steininger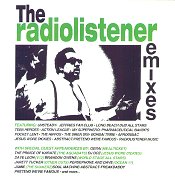 Producing songs directly for this compilation, or 'sonically altering' material straight from the masters, Radiolistener got his hands on these bands and added his touch to the world of ska, power-pop, reggae, dub, and hip-hop.

Starting off with The Hippos' "Asleep at the Wheel (The Boom Shaka Remix)," Radiolistener has turned this pop-ska number into a dub/reggae/ska/pop work of art. Very hard to label, the song will quickly take you down a different road than you're used to with The Hippos.

Not only does Radiolistener re-create other people's songs, he also creates his own with the help of several other musicians. Take his first track on this compilation, "Nothing Left To Say (Altruist Remix)," which features: Matt Wong (Reel Big Fish) on bass, Genai (Mealticket) on vocals, The Prince of Karate (The Aquabats) on guitar, and Isaiah Owens on keyboards. With a guest line-up of this caliber, you know the outcome is going to be something, well, unique. And it is. The song is a relaxing, hip-hop meets dub number that is lead by the beautiful vocals of Genai. Her voice is soft and fragile, but also portrays a lot of love, giving the song a warm, uplifting presence. You can't listen to this song and not feel calm, stress-free, and good inside.

Covering The Beatles, My Superhero helps get the compilation out of a strong dub/hip-hop groove, while still keeping the feeling alive. As is usual with a My Superhero song, the pop hooks are juicy and in full force. The song has a strong pop edge, but underneath it all the Radiolistener touch is still widely apparent. Different for both Radiolistener and My Superhero, this song seems to meet each of them halfway and builds the song from there.

Other bands to get the Radiolistener 'touch' include Jeffries Fan Club with their Minor Threat cover, Action League, Teen Heroes, and the Long Beach Dub All-Stars. Beings that Long Beach Dub All-Stars already play dub, Radiolistener was able to come in and put his expertise to a sound he was already very familiar with. The outcome is one of Long Beach Dub All-Stars' strongest releases to date. That may not be much, since they've only released a few compilation tracks here and there, but after hearing this track you'll be amazed at how it stands out amongst the other tracks they've released.

It's always nice to hear and feel different interpretations of songs you're already into. Putting his mind into the structure that was built by the respective bands, Radiolistener is able to breathe new life into every track he reaches upon. I'll give this compilation a B.