The Checkered Cabs
Remember (Ska Satellite Records)
By: Alex Steininger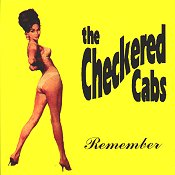 Recorded between 1995 and 1997, DC's female-fronted ska/soul band is well prepared for their debut CD. Offering up a few classy covers, a traditional arrangement, and several originals (twelve tracks total), the disc denotes a band that was long overdue for a CD.

"On My Way," the first track on the disc, serves as the appetizer before the real meal comes along and fills you up. It's not that the song is bad, it just doesn't seem to move you as much as some of the other tracks. Caz's voice is deep and gritty, with a soft, soulful tone pulsating behind it's initial face. But, the rest of the band doesn't seem to work as passionately. Your heart will be melting as her voice soothes you over, but the music seems to be afraid to show their chops -- afraid to make you dance. So, you'll end up sitting this one out.

But once "Walk Right In" rolls around, your faith in the band will quickly escalate. It will capture your attention, freeze you in your spot, and quickly take your hand and ask you to dance. Caz's voice covers this song magnificently -- possibly better than the original. As for the band, they're on the mark from start to finish. The swingin' horn lines sink right into you, rattling around in your head until you can't take it anymore. As the insanity builds in your mind, you'll react by dancing crazier than you've ever done so in your life. The constant rhythm section thump gets your hips and feet beating along, to the point where nothing on your body is standing still. The guitar simmers in the background, helping to get your dance right to its boiling point. If the mixture of swing and ska weren't enough, some tasteful 50's rock 'n' roll helps to color the festivities even more. If you're not trembling in excitement by the time the song reaches the midpoint, you've probably passed out from too much fun.

"Puddin' Pop" shows the band can bring the same energy and excitement to their own material. The drums provide the meat, while the rest of the band adds the seasoning. Hammering away as if human life depended on it, the drums secure a tight rhythm that couldn't be knocked out of alignment even if a comet hit it face-first. Adding just a bit more spice, the bass throws in its two cents. Keeping everything extremely hot and steamy, the horns thicken up the mix with some hard notes -- chewy center included, though. Then there is the guitar, slicing away with the danceable upbeat. Even without Caz's vocals (the song's an instrumental), they still pull off a party.

Knocking me off guard, a cover of Richie Valens' "La Bamba" pops up. A big Valens fan, this was quite the shock. It took me a bit to get into Los Lobos' cover, as did it with Checkered Cab's version. After a few listens, though, I was smiling and dancing along. Not many ska bands could have pulled this off, but Caz's amazing vocal work helped keep them in the clear. Otherwise, I don't think it would have worked.

Ending with "Perfidia," they close out with a song that will draw you close to your dance party. With enough soul to make you feel every note, and enough ska to make you dance to every note, the combination makes perfect sense. Softly dancing and starring your loved one in the eye, you'll value the romantic close this disc provides.

Taking into consideration these songs have been sitting around for quite some time, they do a tremendous job. Not always at the peak of their performance, a lot of times they could have been a bit tighter. But, for a band with this much potential, they overcome the obstacles and still put a smile on your face. On their next disc, expect everything to be twice as potent. They were young and inexperienced on here, but they're not anymore. Watch out! I'll give this disc a B.