VARIOUS ARTISTS
Clay Pigeons Soundtrack (Universal Records)
By: Alex Steininger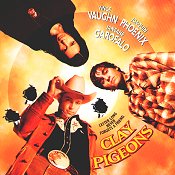 Janeane Garofalo is one of my favorite actors. Her humor and wit are quite charming, and she is one of the true talents in the pool of comedians gone actors. She can do both quite well, interweaving various aspects of the two into one art form. So, when word of her new movie, CLAY PIGEONS, hit the streets I was eagerly anticipating it.

The plot sounds very interesting as well. Clay Bidwell, a gas station attendant, has been caught having an affair with his best friend's wife -- by his best friend! Earl, seeking revenge, sets up his own suicide as to look like Clay did it. Covering up that mess, Clay eventually finds himself being tracked by a FBI agent who believes him to be responsible for several murders throughout the region. Each step he takes, it just gets stickier and messier.

Then there is the issue of the soundtrack. Being the cowboy that Clay is, this disc focuses on a lot of country and alt-country sounds. Such artists as Lyle Lovett, Pat Boone, and Jimmy Wakely contribute tracks along side top-40 pop acts like Tonic, The Verve Pipe, and Sister Hazel.

Getting off to a booming start, Old 97's "Timebomb" is definitely the fuel behind the soundtrack (and, subsequently, hands-down the best track). Soaked with country spirit, and a rock 'n' roll heart to match, this song brings both worlds together so evenly you can't even separate the two without feeling awkward. Unlike other artists who play Nashville pop and try to hide the rock influences today's "country" has, Old 97's go out of their way to prove rock 'n' roll plays a vital role in the Nashville sound of today.

Another band to really make fireworks here is Firewater on "Another Perfect Catastrophe." A slick blend of pop-rock, vintage spy novels, jazz, and a swing bite, these cats know how to cross the musical globe -- in the same song, too!

The rest of the songs pale in comparison to the opening two, except for Verve Pipe's "1229 Sheffield" and Pat Boone's contribution of "Moody River." Verve Pipe serves up a very gentle, yet edgy, pop track that will have you sulking in your beer if you're not careful. Then there is Pat Boone, who calls upon a time when country was country -- not this Nashville pop filler they try to pass off (to great success) as 'modern country'.

Also deserving honorable mentions is the theme song, "Clay Pigeons (the Ballad of Lester Long)," contributed by The Collapsis. Here is some respectable Nashville-pop that some may consider country, while others might flat out call pop. Anyway you look at it, it's just very infectious, soulful music that gives you a warm, tingly feeling inside every time you listen to it. The movie seems to be a winner, but the soundtrack does not. There are a few good tracks (as stated above), but five out of twelve aren't good enough reasons to go out and pick this disc up. See the movie, and leave the soundtrack to the big screen. I'll give this disc a C.