Miss
Civil War (J-Bird Records)
By: Alex Steininger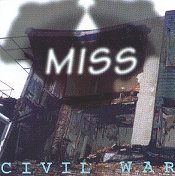 Lara D'Anna, Christopher Adam, and Steve Seidler are collectively known as Miss. A dance-pop-synth band hailing from Philadelphia, their sound is both eclectic and adventurous, in small quantities. Stirring up dust from underneath the carpet of each respective genre they decide to bust into, they're strong point lies in the fact that they're able to keep the pop-techno feel alive all through the album.

But even with the diversity and spin they try to put on each number, they still fall into a repetitive pocket every now and then. Tracks have a tendency to flow into each other, with minutes passing before you realize the next track is now playing.

The songs just don't have the surge of energy that they need to keep your attention throughout. Very monotone-based, they have you for a bit, but after that you'll just shake your head and walk away. That is until "Head Not Found" jumps out at you. Enough slices of guitar and banging drums to turn up the energy a notch, they finally realize their potential and carry it through. Very bouncy, danceable, and a must to tap your feet with, you can't hide from this song.

Too bad "White" doesn't follow up with the same kind of enthusiasm, because once they have you on the ropes they just seem to give up. "No Fault" had something going for it, in the beginning, but after continuing for nearly three minutes, you keep wondering when the actual song is going to bust in, and it never happens.

We won't even get into the title track, "Civil War," which is nearly twelve minutes in length. From the beginning it had a low point it could never recuperate from. I don't care how talented you are, if you want to carry on a song for more than ten minutes you've got to really mix things up...which they don't. On a plus side, "Mono" does a good job of closing out this album on a positive note. The drum machine spits out the beats like fire, while Lara's beautiful voice is able to melt through stone.

This album had a lot of high points to ride on, but they dragged them out or didn't follow through with them. Just when the album would get interesting, it slows back down or stays at the same pace. I'll give it a D.