Veda Hille
Spine (The Bottom Line Record Company)
By: Alex Steininger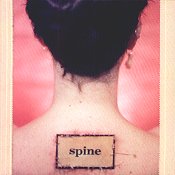 Born in Vancouver, Canada, music was right at the forefront of Veda Hille's activities. Studying classical piano and singing in a choir when she was young, she continued on with these interests before studying jazz piano after high school. Just barely escaping a career as a lounge pianist, she enrolled herself into art school. Eventually dropping out, she began writing songs to pass the time. From there the rest is, should we say, history?

Very delicate, the gentle-pop atmosphere of each song easily flows from one to the other. No abrasive jumps or hard movements, she says everything she needs to say in a toned-down way. Thankfully, her beautiful voice is able to back up every word, gently letting go of them like they are part of her that is escaping.

"Instructions" shows her in a different light, however. Instead of singing the lyrics, she decides to spit them out over the music. Starting off reading eighteen 'instructions,' which have no coherent ties to each other, she ends the song with a little blurb that stands out and really grasps the listener's attention. "I was trying to think of a story, I was walking along. But my head was filled with fragments of other people's songs. Good ones though, I didn't mind. Just to concentrate on walking upright, that was fine." Adding yet another spice, the whole song is based around Veda giving these instructions to a kid. As the kid is unable to process all the information she gives them, the kid comments on how it's "too much information." A lovely, gripping number, after hearing it you won't be able to forget it for hours. Sometimes weeks, as you'll keep coming back to it again and again.

Playing the piano as if it were just an extension of her own fingers, each song is well-structured around the dancing white keys. She is able to keep everything very persuasive and gentle through the use of soft beats and her beautiful voice, which is quite an accomplishment. Her own confidence drives her songs to your heart, as it rubs of on you and you're unable to put them down. I'll give this disc a B-.