Blue Flannel
XL (Universal Records)
By: Alex Steininger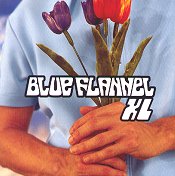 Hailing from Columbus, Georgia, Blue Flannel is a four-piece power-pop/rock 'n' roll outfit that isn't afraid to get soft then bruise your conceptions of them with some all out rock. Originating after front man Derek Coile went through some female problems, he started relieving his pain by writing songs on a four-track. Passing the tunes around to some friends, they eagerly convinced him to start a band. Blue Flannel was thus born. On their debut CD, XL, they prove to be an exciting rock band, hooky pop act, and something you can listen to when you're happy or sad, each time taking something different out of the music.

A twenty-five second violin intro begins the album, but "Unfair Comparison" kicks it off. Beginning with just vocals and a guitar, you are quickly drawn in. Then the drums bounce in, with the bass quickly following, and the song rockets off into the power-pop stratosphere. But, just when the song has you tightly wrapped, it jets off into some very gentle, country-esqe terrain. Before you lose your patience, though, they bust right back into the charged notes that will get you rocking out. Making use of the xylophone near the end, the song has yet another element that won't let you go.

Their first single, "Havin' A Bad Day," wouldn't have been my pick for a first single, but what do I know? Whiny vocals over a fluttering guitar, it quickly gets old. But when the rest of the band kicks in, the energy level blows through the roof. Too bad this only happens during the chorus, because even with the rhythm section on the verses, the song gets old fast.

"Out of Habit" lets you see the band in a new light. An acoustic pop number, with violins and piano, you'll be drawn in by the gentle, regret-filled, puzzled feeling. Very emotional, as Derek sings about the relationship falling apart, you can't help but want to intervene between the two to help them cure their troubles. Still edgy, despite the gentle pop surroundings, this song proves that range and versatility are vital in the life of Blue Flannel.

Treating us to a wonderful groove, courtesy of the bass, "Go Away" begins as a funky rock song, then busts into a power-chord heavy rock pile. But they soon switch back to the groove, before kicking right back into the heavy rock screams that offer up quite the opposite feel. Trading off between these two feelings, one soft and one heavy, the song questions itself before settling on the angry side of the phrase "Go Away."

Blue Flannel, quite frankly, surprised me. With a name coming from the early 90's 'grunge' explosion, I figured these four guys were trying to re-live the Seattle hype in their home town of Columbus. But when I put the disc in, I was blown away. It couldn't have been farther from the truth. Not always on the mark, this disc does, however, usually keeps things interesting and powerful. I'll give it an B+.