Jon Cougar Concentration Camp
Melon (B.Y.O Records)
By: Alex Steininger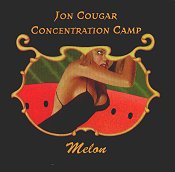 San Diego's Jon Cougar Concentration Camp is not a name you'll pass over and forget. Coming from the same mind that created previous band names as "Hardy Boys" and "Dahmers Diner," the evidence is in the name. These guys are playful jokesters. But when it boils down to it, they know how to rock you with aggressive punk rock that refuses to stay quiet, even in a moment of silence.

Based around Chris Fields (vocals/guitar/drums) and Dave Swain (bass/vocals), these guys may have problems holding down a steady drummer, but that doesn't mean their rhythm section won't kick your ass backwards.

Starting off with a punk rock take on the opening theme to Fox's "Beverly Hills 90210," it's soon no surprise why they decided to invent a punk version of the hit theme..."My Favorite Show Is 90210" just happens to be the song in question. If you're not on the floor laughing hysterically, then the frenetic, wild punk rock must have taken you first and pushed you to jump, bounce, and run around like a crazy dancing to the music.

Certainly not a fluke, they are able to follow "My Favorite Show is 90210" with another punk track that just may be more powerful than the opening track. With two tremendous tracks like this, it's hard to imagine the energy level staying consistent as they follow through with it all through the disc. But they have no problem maintaining stamina, as time just revs them up more.

Progressing through the disc, "Punk Rock Gives Me The Shitz" catches the eyes and the ears. Good at grasping your attention with off-the-wall titles, it is the music that is the true attention grabber. In between a thick guitar, hammering drums, and a stompin' bass they still find time to slip in some melody and pop sensibilities. Not to overshadow the punk portion of the song, the tad bit of pop they slip in just sweetens the deal.

"I wonder where I was when all these rules were made. Who ever made up these rules was trying to get laid," jumps out from the chorus of ""I Ain't The One." Band names and song titles aside, the are also able to apply their sick and twisted writing skills to the songs as well. If the guitar doesn't slice you up first, the drums stomp you to oblivion, or the bass doesn't beat you senseless, the lyrics will freeze you in your place and then gnaw way at your funny bone. Ticklish? Who cares, because they're going to make you roll on the floor and laugh hysterically where you are or not.

Ending with a social commentary on teens and their smoking habits (read 'desire to be cool'), they once again prove their serious side is still able to shine while they make you laugh. Never preachy, the reason their lyrics work is because they rely on humor instead of 'by the book' lecturing.

A melodic, but still fast and aggressive, punk record, this band stays away from the pop-heavy side of pop-punk and re-creates the genre. Not afraid of their pop heritage, they know when to cut it off and get faster and harder. I'll give this album an A-.