SHOW REVIEW: Soul Coughing
1515October 2nd --Metropol (Pittsburgh, PA) (Monqui Presents)
1515By: Bernadette Giacomazzo
1515


1515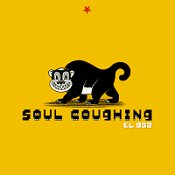 "El amor esta' aqui!" announces Soul Coughing's lead singer, songwriter, and guitarist Michael (but please, call him "M") Doughty as he and the rest of the band - upright bassist Sebastian Steinberg, keyboardist/technical whiz M'ark De Gli Antoni, and drummer Yuval Gabay - take the stage. M. has a video camera in his hand, and he's recording the reactions of approximately 300 people in the 18-30 age group (all who should call Central Casting for the Kids sequel). Los Amigos Invincibles, their opening act, has left the stage approximately 20 minutes ago, and all seem excited that The New York Boys are back in town.

15151515Watching Soul Coughing in concert allows the elder statesmen(and women) of the crowd to hearken back to a younger day, when label mates R.E.M. were traveling the college circuit in an un-air conditioned Ford van. This, of course, was back when $13.50 could guarantee you an up-front and center ticket, before a viable Democrat was president, before the rock-and-cock stadium shows polluted our memories and each concert fell into an old, sly routine: the lead singer preens all day and tries to look cool, the guitarist takes enough drugs to sedate a horse and tries to look coherent, the bass player scrapes his ass on a stone-gravel driveway and doesn't even try to look pissed, and the drummer - bless his/her heart - realizes his obscurity in the background and tries to look important.

15151515Three albums and countless independent collaborations later, there's still no pretension or homogenity. M., in bottle-cap glasses and drooping pants, looks like Michael Stipe's nerd-sexy younger brother as he opens the set with "Screenwriter's Blues". He's got the entire crowd singing along, matching their hand movements with his, as though we're all part of one, big, happy dysfunctional family at a campfire sing-along.

15151515There's more of the same as the light show goes on, with old cartoons matching nouveau beatnik poetry as the band rips through hits from their 1994 debut Ruby Vroom and their 1996 masterpiece Irresistible Bliss - "Chicago, Is Not Chicago," "Collapse," "Bus To Beelzebub," "White Girl," "Blue Eyed Devil," and "The Idiot Kings," to name but a few. De Gli Antoni got up halfway through the set (for some reason or another), and the other members, without skipping a beat, took a moment to salute Duluth, "our favorite city in Minnesota." "DOUGHTY!" then obliged the idiot standing next to me and launched into "Circles," their first single from El Oso. He makes conversation with the audience, and you realize he's really got nothing to hide - no stage act, no false excitement, no pop star posing - this guy likes it, he really really likes it!

15151515Steinberg has a bit of the sarcastic comedian in him, showing absolutely no tolerance for the crowd surfer who dodges Security for nearly all of "Mr. Bitterness." "Just do us a favor and put the guy down. Just put the guy down." There's a dead-pan calm in his voice, like your no-bullshit older brother who never screams at or tattles on you, but who would kick your ass clear across the Atlantic if you pissed him off enough. Gabay, a good-natured type who alternately decorates and relishes in the background, laughs and smiles along as he tries to keep the beat (and succeeds).

15151515They save the best for last, of course. The encore kicks off with "Super Bon Bon," the crowd pleasing funky jive that gets the whole place moshing(thank Goddess for the seat disguised as a bar, which I was firmly rested upon, thanks -- no, really, I'd just gotten out of the hospital and wasn?t looking to go back in). After another salute to Duluth, the band closes up with "Janine," the sing-along last track on Ruby Vroom. M. asks us if we want to scream "really fucking loud", and of course, we do. Without resorting to power ballads or Skynyrd-type torch songs, Soul Coughing have effectively left us with a warm, tingly feeling inside (I went under the covers and enjoyed the feeling when I got home, thanks). They're into "naturalism", the Soul Coughing boys, and they want to see your juices flow. A Soul Coughing concert is like a block party with your best friend's cute older brother's band as the featured guests - cheesy, dysfunctional, good food and drink, bad hairstyles, and the town slut passing out halfway through the set - which, of course, is a good story to tell the kids in ten years when they're selling out $135 seats at Madison Square Garden and falling for a landslide of orange crush with eyeliner.

15151515GRADE: A+. Aesthetically pleasing. In other words, FLY.