SHOW REVIEW: Sufjan Stevens w/ My Brightest Diamond
Crystal Ballroom - October 13, 2006 (Portland, Oregon)
By: Scott D. Lewis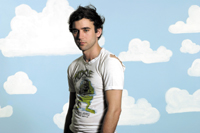 Sufjan Stevens can't decide if he wants to be Elliott Smith or Richard Rodgers. But from the reactions of the sold-out crowd Friday night at the Crystal Ballroom, the smallest hall on his current tour, his fans love that he's a mix of both.

An underground, independent success, Stevens plays some 20 instruments, writes ambitious, conceptual pieces of orchestrated music, sings in tender whispers and helps run his own record label. He's also quite attractive, all of which would be enough to make one jealous, except that he's too humble to warrant such bitterness. Backed by at least 15 musicians wearing butterfly wings, Stevens identified himself as their ringleader by wearing a set of large bird wings and commenting, "You can call me the majestic songbird," a reference to a gorgeous new song Stevens performed later in the show.

Most of the songs over the following two hours were culled from his most recent proper studio album, "Illinois," the second record from what's been dubbed his "50 States Project." The album reportedly caused a bit of legal trouble and consequential publicity by featuring an image of Superman, who apparently isn't supposed to be working for anyone other than DC Comics. Stevens' hushed vocals contrasted with the band's energetic carnival sounds during "The Man of Metropolis Steals Our Hearts," and the kaleidoscopic images appearing on the screen above the stage gave way to shots of band members inflating life-size Superman dolls and trying, fairly unsuccessfully, to set them to flight.

Stevens' most potent slice of pop, "Chicago," was right on target and the audience joined in for the "All things go/All things go" double refrain. His typical tactic of mixing show-tune pizzazz with klezmer sounds, emo and so-called freak folk carried "The Transfiguration" and the horn-heavy "Jacksonville," but the approach proved to be a bit repetitive, leading one to wonder whether certain sections weren't being heard for the second or third time by the show's end. Nearly half of Stevens' band was made up of the same musicians from My Brightest Diamond, which opened the show. My Brightest Diamond is the working name of Shara Worden, a classically trained vocalist who turned her attention to avant-rock when she moved from Mississippi to New York City. Worden is enjoying a small avalanche of critical praise -- for good reason. My Brightest Diamond's sound could be described as a more arty and theatrical version of PJ Harvey, but it really exists in a wonderful world all its own.

It's a world rich with strings and unafraid of divergent toylike keyboard sounds and rocking electric guitars. It honors the blues, loves jazz, flirts with chamber pop and will even get funky when needed. At the center of it all is Worden's remarkable voice -- an arty apparatus that can glide from smooth soprano to the sighs of a weary ghost and to the wails of a banshee with agility, style grace and a riveting sense of purpose.