SHOW REVIEW: The Ditty Bops
Clark County Ampitheater -- September 9, 2005 (Ridgefield, Washington)
By: Valerie Richardson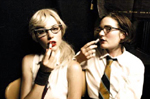 Taking place at the resplendent Clark County Amphitheater in Ridgefield, Washington, The Ditty Bops captivated the audience with their theatrical Vaudevillian music, opening for Tori Amos on September 9, 2005.

The ostentatious duo, known for their theatrical, costumed performances met the crowd with a disappointed "Aw!" when Amanda Barrett, one half of the unique and fascinating duo announced to the crowd, "There will be no juggling tonight". Admittedly, I too, was disappointed. The disappointment soon vanished as they began their set of songs which left myself and the crowd both mesmerized and entertained with toe-tapping lyrics such as "Your head is too big and taking up too much space", compete with props consisting of red balloons that Amanda Barrett, the svelte, lead vocalist popped with big prop-knives, as if the balloons were swelling heads.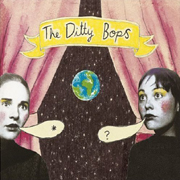 Not often do I witness amazing, sweet melodies coupled with songs that make you laugh from your gut, but Amanda Barrett and Abby DeWald managed to accomplish both at this show. The upbeat harmony of a mandolin, a fiddle, acoustic guitar and a string bass is like no other music I?ve heard and one can hardly refrain from shimmying in their seats to their danceable tunes.
The adorable Amanda Barrett (lead-vocals, mandolin, and dulcimer) and Abby DeWald (vocals and acoustic guitar) who make up the duo of The Ditty Bops have such a light-hearted, endearing quality about them. Their talent, as shown on their debut, self-titled album rings true as well as their live show, which to say is entertaining would be an understatement. These girls know how to combine beautiful melodies with hilarious acting on stage and I have to say I was quite impressed, even though they didn?t juggle.

765