SHOW REVIEW: The Killers
Roseland Theater -- October 10, 2006 (Portland, Oregon)
By: Nellie Cupples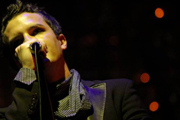 I arrived at the Roseland just in time for the show. I could tell that there was already an energy rushing through the house. On this night the Killers really owned the Roseland. It was like a home away from home, the level of excitement was electric. As Brandon prepared to take the stage the audience went wild.

Dressed in a black suit with a rhinestone tie ? which, incidentally, matched his rhinestone keyboard cover ? lead singer Brandon Flowers used his considerable charm and natural stage presence to work the crowd into a frenzy during their opener Mr Brightside.

Musically, the band is a curious mix of New Order-style electronica with relentless drums-and-guitars and a hint of 80s New-romanticism.

Surprisingly, this works, as the foursome tear through their set at a breakneck pace (propelled by Ronnie Zannucci's frantic drumming), the audience basked in such crowd-pleasers as the disco-tinged, gender-bending 'Somebody Told Me', the pleading 'Smile Like You Mean It', and the positively closer 'Indie Rock & Roll'.

As I stood amongst the crowd I knew I was amidst some true fans as they were all screaming out all of the lyrics to each and every song that came off Flowers lips. I have been to many shows, but never one where the crowd was so into the music as this one.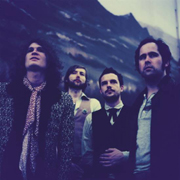 The willowy Flowers proves a truly magnetic front man. He's not the most talkative, but that doesn?t seem to matter much. With a hugely emotive voice and the kind of boyish good looks that could easily earn him pride of place on many a girl's bedroom wall- combined with his obvious knack for penning a memorable tune- Flowers oozes star quality that has this Portland crowd going wild.
After a short break, the band returned to play the mediocre "On Top," followed by the marvelous "All These Things That I?ve Done". The crowd seemed to invest itself emotionally in the closer, singing the lyrics throughout the song, and even started the "I?ve got soul / but I?m not a soldier" anthem before Flowers uttered a single word. Flowers got on a speaker and held his mic out over the audience who defiantly had sole as they sang "I?ve got soul / but I?m not a soldier".
Overall The killers put on a show that was phenomenal. The Killers were on their game and proved why multi-platinum success has dawned on them - they can make strong records and then entertain with a live show well-worth the cover price.