Anders Parker
Tell It To The Dust (Baryon Records)
By: Alex Steininger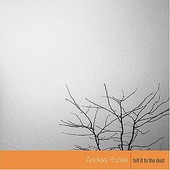 Anders Parker's debut, Tell It ToThe Dust accomplishes a lot in a little under an hour. Sounding rustic and even roots-y, the pop-rock album balances nicely between roots-rock ("Goodbye Friend"), sparkling pop (the title track), and folk-pop ("Don't Worry Honey, Everything's Gonna Be Alright"). Another stand-out track is the piano-pop of "Go Alone".

Trading off between these three sounds, and blending them quite often as well, Parker is able to create a pop masterpiece, the type of majestic record that slowly simmers in your mind before completely encompassing you. One moment you're hearing some roots-rock and the next the most gorgeous pop song hits you. Then, the two seem to become one on the next track.

Weaving around with that kind of conviction, Parker keeps you guessing, while also never straying too far from the tree, managing to make all things sound like him. Familiar, but different, this is the beauty of Parker.

Even after that, he still has surprises up his sleeve, including the loud pop of "C'mon Now" and the blues-rocker "Doornail (Hat's Off To Buster Keaton)".

An exceptional debut, Parker has made a name for himself here with a diverse, yet focused record. I'll give it an A-.