The Anderson Council
Coloursound (Sinclair)
By: Gary "Pig" Gold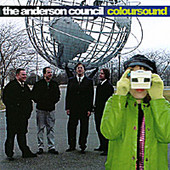 Somewhere, the madcap is still laughing.

Yes, none other than the Grip Weeds' exemplary House Of Vibes studio provides the perfect audio playhouse wherein this Thames-side (by way of Jersey --don't let those inflections cheap trick anyone!) quartet has gone and produced the absolute, most meticulously-authentic Move/Strawberry A-Clock/Side One "Revolver"/Who (Sell Out) by way of Jam etc. album you or I have EVER heard.

Why, this cavalcade of digital dayglo comes complete with not one, but two (Count 'em!) mock-Cola jingles, and the songs which surround each are duly layered ear-deep in full-on flanging walls of incest and peppermint-flavo(u)red full-dimensional slavish sound sensation. No, really!

Now the cynics out there will of course grunt that this is all that happens when record collectors finally learn to play their Rickenbackers, and WHO could honestly blame some of them? But if The Rutles can still raise your smile, then "Coloursound" most definitely is the perfect shade for whomsoever dream it just should've never ever stopped being '67 in the first place.