INTERVIEW: Richmond Fontaine
Oft-depressing Alt-country band makes most optimistic record to date (El Cortez Records)
By: Alex Steininger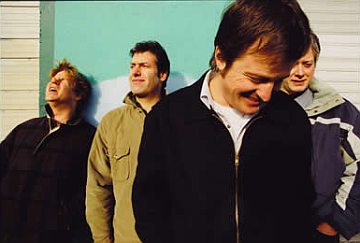 Portland, Oregon-based dark country-rock outfit Richmond Fontaine, fronted by Willy Vlautin, are experiencing a growing amount of success with their fifth, and best album to date, Post To Wire, released earlier this year on the band's own El Cortez Records.

Their marginal success in the states is being overshadowed by massive kudos in Europe, including a recent "record of the month" glowing review in Uncut Magazine, and an upcoming 4-page feature, also in Uncut.

Propelled by the rave reviews overseas, guitarist Dan Eccles and Vlautin went over to Europe and did a tour, with an upcoming full-band tour currently underway.

The band has seen its share of critical praise and laudatory comments with its past four albums, but their latest album poises to take them to the next level. Earning its title from a horse racing term where the post is the start of the race, when you can't place a bet anymore, and wire is the finish of the race, Vlautin's love of gambling is the a vice far better than some of the vices (and troubles) endured by the characters in his songs. But, as Vlautin puts it, he decided to call the record Post To Wire for another reason.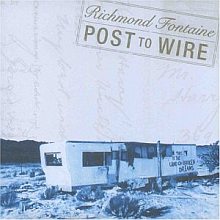 "I called the record that because it's the most optimistic song on the record," he says, referring to the title track, a short, two-minute ditty that features Vlautin doing a duet with The Damnations' Deborah Kelly.
"Lost Son (the band's third record, and last for Cavity Search Records) was such a bleak record for me in a personally bleak time. Winnemucca (the band's first for El Cortez Records) is the next day, when you're just hiding out. Winnemucca is about hiding out and trying to escape. Post To Wire is more hopeful, not so beat up. It's like the ride up. I've been on a better plain," Vlautin discusses with me, describing why Post To Wire is the band's most optimistic record, even with some of its characters going through hard times.
One character in particular is Walter, who pops up on three short interludes: "Postcard from California", "Postcard Written With a Broken Hand", "Postcard Postmarked Phoenix, AZ". In these interludes, Vlautin's character, Walter, writes home, describing his reason for ripping off his friend and leaving town, and further explaining his trials and tribulations throughout his journey.
"Walter is a good guy, he's alright," Vlautin says about the character. "I had him doing a lot of other crazy shit. Like a horse, backpacking trip, and he went to the Sierra's...," Vlautin says before trailing off. "Also, he's had like four girlfriends," he continues, bringing the character to life, something Vlautin is good at.
The postcard interludes almost didn't make the record, however, as Vlautin shares with me, until producer J.D. Foster convinced Vlautin to give it a stab -- which in turn convinced the band it was a good idea.
"I starting writing the postcards on the road because I like to write, and it's hard to on the road. So I started writing these letters," he tells me. "They're manic. They have that manic energy I get when I hang out with [the guys in the band] for long periods of time.
"Some of them were a lot funnier."
Vlautin pauses and continues.
"I thought it would be cool to intersperse them throughout the record. I kept trimming them down and trimming them down, and nobody understood what I was trying to do. And I explained it to them, but they just didn't get it," he recalls. "Then J.D. came down and said, 'We should definitely use those', and I told him I didn't think the guys were into it. And he told me, 'I don't think the guys really know what you're trying to do.' So they went to dinner, and he and I went in [to Jackpot! Studios] with Larry [Crane, owner of Jackpot] and recorded them.
"Paul came back; he doesn't care about anything, he'll do anything, so he put the steel tracks down. Everyone got back and said, 'those are cool'. Everyone thought they'd be much longer."
But, even with everyone thinking they interesting, there was still a question as to whether or not they'd work on the record.
"They were almost off the record, three of four times," shares Vlautin. "We kept cutting them and putting them back on. One of those things that are cool and different, but you don't want to annoy people with them, either. We were worried about that, about annoying people who listened to the record over and over again. But I'm glad they're on. I like them."
Vlautin credits a lot of the album's shape and form to producer J.D. Foster, someone they had met when Jackpot's Crane called up the band and said, "You gotta meet this guy". They came down to Jackpot while Foster was producing Richard Buckner's Devotion + Doubt, and instantly hit it off.
"All the guys in the band wish we end up like J.D. He's so fucking cool," Vlautin says with a smile. "He's like 50, 55, and just so cool. We had a lot of fun working with him".
The band spent three weeks with Foster, trading off between Crane's Jackpot! and the Old Joe Clark's front man Mike Coykendall's studio, The Blue Room.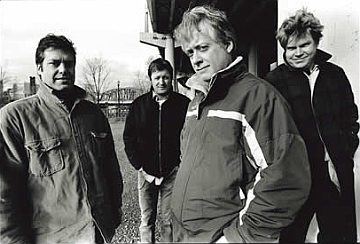 Besides convincing the band that the postcards would fit in on the record, Foster also helped the band realize several songs on tape, songs Vlautin said would have otherwise not been up to par. One such song was "Two Broken Hearts".
"'Two Broken Hearts' was a more poppy kind of tune, and it didn't work at all," admits Vlautin. "Then we were going to cut it from even recording it. But J.D., who is great at thinking on the fly, asked us to play it slower and it worked."
Vlautin's lyrics often let the listener come to their own conclusion about the characters, but "Two Broken Hearts", more so than other songs, had many a listener coming to up Vlautin after shows asking him about "the man with white spit on his lips" that haunts the couple.
"What I meant was that two broken people will always have someone chasing them like that, at least in their minds," he explains to me. "Not literally, though. It just means they'll still have to face their demons and will never really be able to escape them, and I felt a scary guy with white spit on his lips would be the best way to represent that. But maybe I didn't get my point across?"
Vlautin and I start discussing other songs that had trouble making the record, almost visiting the chopping block, but avoiding that fate, for whatever reason.
"It's always hard to cut songs," he says, after thinking for a bit. "There were some we cut a few times and then put back on, like 'Hallway', 'Always on the Ride', and 'Montgomery Park'. They were all cut for awhile." "This was our hardest record to sequence because it's all over the place. But it's my favorite record of ours, I think. I'll probably say that about the next record, hopefully," he says, laughing nervously, speaking with a sense of humor that is equal parts modesty and self-doubt. "But I'm very proud of this record. I like every song on it."
One of the proudest moments of the record for Vlautin is the fact that the song "Allison Johnson" made it on the record. The tale of a girl going through a very hard time, Vlautin wanted it on the record, if only because he wanted Johnson (a character in one of his novels (Vlautin writes novels in his spare time) to have a song to make her feel better about where her life was heading.
"I brought 'Allison Johnson' to the guys right before we recorded it. We had recorded it once before at a one-night recording session in Austin, so they had forgotten it. I held on to it and brought it to them right before we recorded it, to give it that looser kind of feel, and thank god they liked it."
Vlautin would later tell me that he finished the Novel with Allison Johnson in it and that things "turned out alright" for her.
Just as Vlautin had hoped to turn around things for Allison Johnson with a song, Post To Wire seems to have been very cathartic for Vlautin.
"With Post To Wire I healed myself, as stupid as that sounds, and worked myself out of where I was at," he says, beaming with optimism.
The record turned out t0 be a bigger rock record than Vlautin had originally planned, as he will attest to, but, as he will also admit to, a band is a democracy and you have to make sure every party is happy.
"The band really wanted to make a big rock record," he says to me, "and I got songs like the postcards and 'Allison Johnson' on the record, which is what I wanted, and they got songs like 'Willamette', which give it a bigger rock feel".
Now that the record is out, the band is focusing on their initial goal of selling seven thousand units to help sustain the band and bring them closer to making it a full-time gig. And with the praise being bestowed upon them in Europe, their goal is becoming more and more a reality -- if not in the U.S., in Europe.
"That's where we need to go," Vlautin says of the seven-thousand unit mark. "I don't know if that is possible. I don't think we can do it over here without touring incessantly. That's a lot of records. We can get to 3 or 4,000, that's not so bad. But it's getting past that break. And popping up to 7,000, it's a different level. It doesn't seem like that much in the big scope of things, but it really is."
As for touring incessantly in the states, Vlautin and the band have already ruled that out as an option. Though two and even three week jaunts across the U.S. ever quarter seems more viable.
"I see bands that tour all the time, and they don't like each other," comments Vlautin. "It's hard on everyone. I respect that kind of touring, and I know it's good [to help sales and bring the band to the next level]. I'm too much of a boozer to be on the road all the time. My nerves are bad.
"I don't drink at home, but when I'm out around people I don't know, I get nervous, and drink a lot. I go on a bender. If I'm drinking three nights in a row I might as well go for it. Once I start, I can't stop."
He continues, "Plus, these guys, the guys in the band, are my closest friends. We hang out in town and everything, and I don't want to jeopardize our friendship by touring non-stop to the point of breaking the band.
The band will be heading out in mid-June for a Midwest tour, before coming back home, planning another Europe visit, and possibly a West Coast tour following that.