INTERVIEW: Richmond Fontaine
Alt-Country? Rock 'n' Roll? Call Them Anything, Just Listen To The Music.
By: Alex Steininger



Richmond Fontaine's singer/songwriter Willy Vlautin is a gentle, kindhearted person. But, if you were to put in one of the band's three albums (SAFETY, MILES FROM, or LOST SON) you'd swear he was a disturbed, tormented individual who only saw pain and suffering in the world. That isn't the case at all.

As the band proves on their latest, LOST SON (Cavity Search), they have a knack for writing tales of bad things that happen to different people. But, with a mysterious, unfinished ending to each song (like any great novel or short story), by the time the story is finished, the future of the individual and his/her life is up for interpretation by the listener.

Take "Hope & Repair," the final track on LOST SON. The song deals with a man who finds a prostitute, takes her into his home, all while his friends tell him its not such a good idea what he's doing. By the ending of the song, you're left with a few options on what happens to the prostitute:

And months went on, and she barely left my place/ She lived off her savings/ Then I came home one night to everything broken and ruined/ All her things were gone, and everything I owned was in a pile/ Covered in gasoline/ And the sheets on the bed were covered in blood/ All the sheets were covered in blood.

So goes the tales of pain, tragedy, and sometimes death that Vlautin's stories cruise through. But no matter what transpires throughout the song, Vlautin always leaves you with the final say in what happens or what is to come for the characters involved in his songs.

"I hate it when you listen to a song and the songwriter tells you everything that happens, leaving nothing to the imagination," comments Vlautin on the ending of "Hope & Repair." "I like to listen to a song and come up with my own interpretation of what happens at the end. Like with 'Hope & Repair,' I've got my own ideas of what happens to the prostitute and I'm sure you do too."

Vlautin is a songwriter, writer, and novelist. And it shows in his songs. They don't just encompass his abilities as a songwriting, but rather his abilities as a well-rounded, structured writer who involves himself in fiction of all forms. Hence a very short story like feeling to his songs, especially on the band's latest.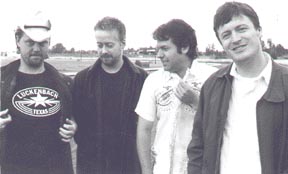 "MILES FROM [their second album] had the short-story quality to a lot of the songs. But, LOST SON feels more like a short-story novel because everything has a feel or vibe to it that made it fit with the album," explains Vlautin.
"My songs come from my novels and my novels come from my songs," furthers Vlautin on the connection between his novels and his songs. "I've never really thought of it, but yeah, I could go through my songs and have a soundtrack to my novels. They all come from the same place."
So, where do they come from exactly?
"I come up with each song differently. You'd have to name a specific song and I could tell you how I came up with it," comments Vlautin when pressed to sight a source for his inspiration. "'Cascades' is about finding family. His mother has died, but now he's got this stepbrother he hardly knows. It's about wanting family and finding out who they are once you have it.
"Fifteen Year Old [referring to "Fifteen Year Old Kid In Nogales, Mexico"] is about how I always wanted to go to Mexico but never had the guts to do it. And, this kid had the guts; he packs up all his belongings and heads for the border. In the movies you are always told once you hit the border you're free, and I always wanted to do that, but just couldn't. But, he could."
Both "Cascades" and "Fifteen Year Old Kid In Nogales, Mexico" are on LOST SON. The album travels through fast punk rockers like "Muddy Conscience" and "Pinkerton" while also mixing in plenty of soft, acoustic tracks like "Cascades" and "A Girl in A House in Felony Flats." Together, the album is able to hit you hard with the rockers and then chill your bones with the icy acoustic songs that are sure to bring tears to your eyes and suspense to your mind.
"The title actually comes from a song we wrote on the album called 'Lost Son'. It didn't fit on the album, but we needed a title, so we used it," Vlautin says when asked for a story on the title. "I really like the song and hope it will show up somewhere else in the future. It just didn't seem to go with the mood of this album."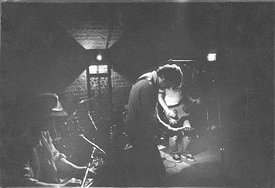 As for their sound, Richmond Fontaine has been labeled many things, from punk rock-country to rock 'n' roll and back to the label they most often receive, alt-country.
"We have a pedal steel player, so people are going to be quick to call us alt-country, because the minute they hear the pedal steel player it is automatically country. I don't mind that though, because we are country-influenced," Vlautin says with confidence on journalists labeling the band alt-country. "Bands like X, The Flesh Eaters, and The Blasters were doing this before they had a label for it, and I love those bands."
Of course, regardless of what you want to call Richmond Fontaine or what label you think best describes them, after one listen to any of their albums, including the fascinating LOST SON, you'll know this band is so much more than any label can provide. One of the few bands that can consistently draw you in and make you think, while always leaving you with a sense of suspense no matter how many times you've heard the song or the album, Richmond Fontaine is a band of tales and intrigue that will keep you going well after the song is finished.
"Good music is the kind of music where, no matter what you listen to, you can go see a performance, and although you don't really dig the type of music they're playing, after seeing the artist perform you're blown away," Vlautin is quick to point out. "I used to not like country, but then I'd see someone like Willie Nelson perform and you had to walk away a fan. Or, at least respecting him for his abilities."